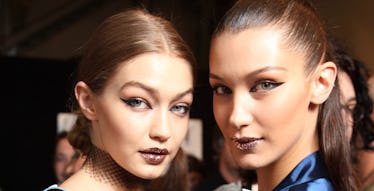 Gigi Hadid Announces She's Walking With Bella In Victoria's Secret Fashion Show
REX/Shutterstock
Gigi Hadid is officially back for her second year at the Victoria's Secret Fashion Show.
What, you thought she was going to let her sister have all the fun? No way, obviously she's going to swoop in and steal all that thunder for herself. After all, that's what big sisters are for!
The 21-year-old model announced her return to the fashion show via an Instagram post on Wednesday.
Gigi shared a video of herself walking the runway at the 2015 show, thanking Victoria's Secret for making her dreams come true (again).
Gigi wrote in the caption,
There is no feeling in the world like walking down this runway. I'm elated to say I'll be returning to the @VictoriasSecret Fashion Show this year. Thank you @ed_razek for putting on the show that has been one of my greatest motivators since I was a teenage fan of the Angels, and for making this dream come true for me again. It will forever be an honor. Can't wait to join the surreally beautiful and inspiring women that are the #vsfs2016 lineup. See you in Paris!!
Yesterday, it was announced Gigi's 20-year-old sister Bella Hadid would be making her very first appearance as a Victoria's Secret Fashion Show model this year.
Even though Gigi's got experience on her side, Bella might give her a run for her money if her audition tape is any indication of how the show will go.
I mean, I don't know if Victoria's Secret is looking for PURE ADORABLENESS in its fashion shows, but if so, Bella is totally crushing it.
LOOK HOW SWEET AND NERVOUS SHE IS! DON'T BE NERVOUS BELLA, YOU LOOK INCREDIBLE!
Seriously, how can you look like this and be nervous? IDGI.
OK, so Bella is in, Gigi is in... sooo... Kendall, where ya at girl?!
GET IN KENDALL, WE'RE EXPLOITING OUR BODIES!
Some sources say Gigi's BFF Kendall Jenner will be returning for her second year in the show, but we've yet to hear anything from Kendall herself.
If Kendall does walk in the show, this will be her first return to Paris since her sister Kim's robbery at gunpoint. Maybe Kendall's not ready to head back to that city yet.
The Victoria's Secret Fashion Show, this year set in Paris, will air on CBS on Monday, December 5.
Citations: 'I'm elated to say I'll be returning': Gigi Hadid announces she will appear in the upcoming Victoria's Secret Fashion Show alongside sister Bella (The Daily Mail)