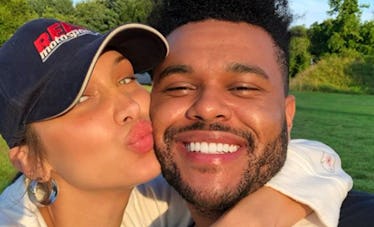 Bella Hadid & The Weeknd Are Reportedly Taking A Huge Step Forward In Their Relationship
Instagram/The Weeknd
Don't you feel better knowing The Weeknd and Bella Hadid are somewhere happily in love? While I was down to support both celebrities during their brief but formative breakup, I'm much more settled and peaceful knowing they've found their way back to each other. New reports suggest they're actually leveling up even more in their relationship — bless them. Bella Hadid and The Weeknd are moving in together, according to reports, and I'm dying for a housewarming party invite. Elite Daily reached out to both Hadid and The Weeknd's teams for comment on the reports, but did not hear back by the time of publication.
Multiple outlets, including The New York Post and TMZ, are reporting The Weeknd asked Hadid if she'd move in with him into his new condo in New York City. Reportedly, Abel just signed a lease for a chill $60,000-a-month Tribeca condo and Hadid is reportedly down to make the move. According to The NY Post, the space boasts 5,004-square feet, four bedrooms, four bathrooms, a powder room, and a private outdoor space. Apparently, other famous folks like Justin Timberlake, Meg Ryan, and Rebel Wilson also have property in the impressive building. (I just want to say: I live in New York City and have never seen any of these people, like, not even once, so...)
Prior to these new digs, Abel shared a rental in Greenwich Village with his ex-girlfriend Selena Gomez while she was controversially filming Woody Allen's film, A Rainy Day In New York. Of course, fans know Gomez and Abel broke up roughly a year ago in October 2017 and, shortly after, he and Hadid were spotted back together.
Now, they just might be purchasing a couch together. Anything is possible.
The Weeknd and Hadid's relationship revival came in hot and heavy with awesome Instagram posts, PDA, and lovey-dovey behavior between the two celebrities. In mid-October, Hadid shared a sweet photo of herself and Abel touching foreheads with the caption, "Home." Now that they might be moving in together, this caption takes on a whole new meaning.
The touching pic was just one of many Hadid shared around her birthday. She also posted a collage of fun moments from her b-day shindig, accompanied by a caption that shows just how happy she is right now. She wrote:
I know I'm a lil late but I'm still in shock thinking about my birthday this year. I've never felt so much love & happiness. Thank u to my baby, my beautiful family and friends for making this surprise so special. This was the best day ever( EVER) .. thank you to everyone for the birthday wishes. I feel so lucky, I can't believe it 🖤.
Note: "My baby" is definitely in reference to Abel.
Elle magazine notes both celebrities are fairly bi-coastal, but New York City is definitely a home base for Hadid considering her busy modeling career. Her sister Gigi also has an apartment in the bustling east coast city, though Abel just recently purchased a $20 million estate in California's Hidden Hills.
It's safe to say between Tribeca, Hidden Hills, and big sis Gigi's condo, Bella and The Weeknd always have a dope place to call home, wherever they are.