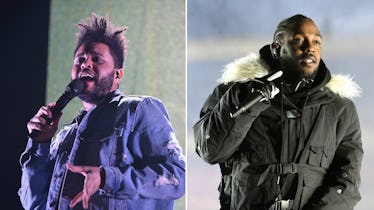 The Weeknd & Kendrick Lamar Dropped A New Song For 'Black Panther' & It's Fire
Theo Wargo/Paras Griffin/Getty Images Entertainment/Getty Images
Today is a good day, and that's because we've got some pretty kickass new music from The Weeknd and Kendrick Lamar. Their new track just dropped, and it will be featured on the upcoming Black Panther movie soundtrack. As if we weren't already pumped to go see this movie, now we've got yet another reason. The song, called "Pray For Me," is so damn good. It's one of those pieces of music that we didn't know we needed, and now that we have it, we can't imagine our life without it. Am I being dramatic? Yes (and I don't care). What's even more amazing are The Weeknd & Kendrick Lamar's "Pray For Me" song lyrics, because they are actual fire. The words can and will make you feel things.
We start off with The Weeknd spitting some serious truth:
I'm always ready for a war again, go down that road again, it's all the same, I'm always ready to take a life again, you know I'll ride again, it's all the same (ooh, ooh, ooh), tell me who's gon' save me from myself when this life is all I know, tell me who's gon' save me from this hell, without you, I'm all alone.
Then, the song really picks up. I mean, just take a look at the chorus:
Who gon' pray for me? Take my pain for me? Save my soul for me? 'Cause I'm alone, you see. If I'm gon' die for you, if I'm gon' kill for you, then I'll spill this blood for you, hey.
Oh, you thought it was good so far? Well, just wait for Kendrick Lamar's lyrics:
I fight the world, I fight you, I fight myself, I fight God, just tell me how many burdens left, I fight pain and hurricanes, today I wept, I'm tryna fight back tears, flood on my doorsteps, life a livin' hell, puddles of blood in the streets, shooters on top of the building, government aiding relief, earthquake, the body drop, the ground breaks, the poor one with smoke lungs and Scarface, who need a hero? (hero) You need a hero, look in the mirror, there go your hero, who on the front lines at Ground Zero? (hero) My heart don't skip a beat, even when hard times bumps the needle, mass destruction and mass corruption, their souls are sufferin' men, clutchin' on deaf ears again, rapture is comin', it's all prophecy and if I gotta be sacrificed for the greater good, then that's what it gotta be.
Well, damn, you guys. That's INTENSE.
And guess what? I freaking love it.
According to Complex, Lamar made a statement regarding how privileged he feels to be a part of the Black Panther film. He said, "The magnitude of this film showcases a great marriage of art and culture. I'm truly honored to contribute my knowledge of producing sound and writing music alongside [director Ryan Coogler] and Marvel's vision."
We knew that the collab between Lamar and The Weeknd was coming, as it was announced in January of 2017:
And now that it's here, fans agree that this song is an instant classic:
Can't disagree with any of them, TBH.
As if I didn't already have enough reasons to go see Black Panther — set to debut in theaters on Feb. 16 — I'm going to tack this song onto the growing list of why I will undoubtedly be hitting up my local movie theater with a huge bucket of popcorn to go see the Marvel film.
Bravo to The Weeknd and Kendrick Lamar for putting out new music that fans can't help but love.