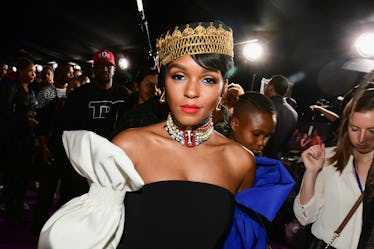 The 'Black Panther' Red Carpet Was Like The Super Bowl Of Fashion & Twitter Exploded
Emma McIntyre/Getty Images Entertainment/Getty Images
Blank Panther is one of the most highly-anticipated movies of the year. I can't wait to see the movie, especially since the film just premiered in Hollywood and red carpet fashion was flat-out stunning. Janelle Monae's Black Panther premiere fashion look was particularly sensational, and she basically brought African royalty to Hollywood.
Marvel Comics has created what looks like a masterpiece story come to life. Black Panther will be released on Feb. 16 and good luck trying to get tickets if you don't already have them. One of the film's stars, Lupita Nyong'o, couldn't even get tickets! If you're not familiar with the story, Black Panther is about a fictional comic book hero of the same name, originally appearing in Marvel Comics in 1966, and is the first major Marvel character of African descent. The character of T'Challa returns to his kingdom in the imagined country of Wakanda, and must protect his realm from outside adversaries as the Black Panther.
The comic is more than an engaging story, it's also a commentary on colonialism and the power and beauty of African nations on their own. Continuing on with that theme, the stars of the film and other supporters dressed to slay and showed off their cultural pride on an African royalty themed purple carpet. Take a look at some of the best dressed stars below.
Janelle Monae looks like a literal queen and I'm dead. Monae wore a Christian Siriano crop top and ballgown skirt but styled it to look like a dress. The top features blue and white color-blocked sleeves, and what's that atop her head?
It's a crown! Monae is wearing an African tribal-themed golden headpiece and stunning beaded necklace and I'm just trying to figure out where her thrown is.
Lupita Nyong'o is the princess to Monae's queen. Nyong'o wore a bright purple Versace gown with a beaded bodice.
Look at the crystals on that dress. The embellished harness-style bodice makes Nyong'o look like the most badass princess yet.
Angela Bassett also embraced color in her beaded yellow Naeem Khan jumpsuit. And yes, all that fringe is beaded which means that jumpsuit probably weighs more than I do. Bassett's hair nearly stole the show, and her jewelry is equally statement-making.
Issa Rae attended the premiere in a pleated metallic gown by Rosie Assoulin. The flowy dress complimented her sleek hairstyle.
Danai Gurira wore a pink Viktor&Rolf dress. The column gown is a one-shoulder silhouette with a ruffled strap, it's embellished with black rhinestones.
If you look closely, you'll see that Gurira's nails are also pink with black rhinestones to match her dress.
Yara Shahidi made what could also be a beach coverup look chic AF — the gown is designed by Etro.
Janeshia Adams-Ginyard wore a stunning dress and hat by Tamara Cobus, and jewelry by Tonymech Acosta.
The men at the premiere were dressed the nines as well — Donald Glover wore a bold orange suit and shirt.
Chadwick Boseman shown in a metallic embroidered jacket to spice up his look.
David Oyelowo really embraced the unofficial African-themed dress code at the premiere.
Daniel Kaluuya wore African-inspired pants that also look comfy AF.
Michael B. Jordan is one of the few actors at the premiere who wore all black. Jordan looks d*mn fine though so I'll forgive him.
Twitter also agreed that the fashion at the premiere was epic.
But actually though, fashion shows need to step up their game after this.
Phenomenal doesn't even begin to describe it.
Royal AF.
Twitter almost couldn't handle how amazing everyone looked.
It's legit distracting how beautiful everyone was.