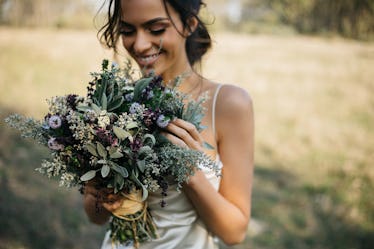 This Is The Wedding Hairstyle You're Destined To Love, Based On Your Zodiac Sign
If you're stumped on how to do your hair for your wedding, examining your zodiac sign and its characteristics could point you in the direction of a really meaningful hairstyle. If your hair is significant to you, there are so many ways to make it representative of who you are on your big day. Think about the characteristics you appreciate most about yourself, your zodiac sign, and see what can shine through in a specific hairstyle. To find out your ideal wedding hairstyle based on your zodiac sign, check out the suggestions below.
When it comes to getting creative with your wedding hairstyle, the following stylists have an incredible talent for perfecting the art of wedding hair. If you're interested in a particular stylist, feel free to check out more of their work on Instagram.
When it comes to understanding what kind of hairstyle would best represent your sign, consider the things you love most about yourself and how it relates to your sign. If you're an earth sign, you likely appreciate your surroundings and the feeling of being grounded. Incorporating florals could be representative of being an earth sign that appreciates stability. If you're a water sign, you're likely in tune with your emotions and love to be creative, so adding color to your style through jewels or even some dye could feel really authentically you.
However you choose to do your hair on your big day, remember that you are the star of the show.