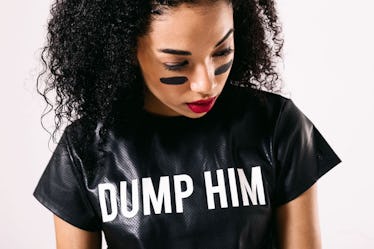 Your Super Bowl Love Horoscope Nails What You Can Expect After The Final Touchdown
When you hear the phrase "Super Bowl Sunday," romance is not likely to be the first thing that comes to mind. However, it tends to be a rather important opportunity for a date night or even to meet your bae's friends for the first time. There's something about the simultaneously casual, laidback, and celebratory atmosphere of Super Bowl Sunday that could have a significant impact on your love life. And, as a result, you might want to take a second to see what your Super Bowl love horoscope is so you can be prepared for whatever this weekend holds.
Maybe I am biased because my first kiss was at a Super Bowl party, but I feel like whenever there's a chance for friends to get together and celebrate, there's a chance for sparks to fly with your crush, as well. Astrologer Jill Wintersteen has shared insights with Elite Daily on what is happening in the cosmos during this Super Bowl Sunday. According to her, the influence of Aquarius's energy just may open your mind to someone you would've never initially been drawn to and also give you the confidence to make a move. Here's your best Super Bowl party game plan, based on your zodiac sign.
This article was originally published on