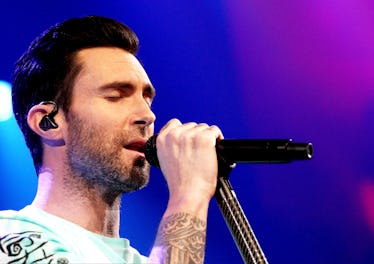 Adam Levine's Zodiac Sign Reveals So Much About How He Loves Behati Prinsloo
Tommaso Boddi/Getty Images Entertainment/Getty Images
Adam Levine has been a pop music sweetheart for almost two decades now. His lightly rugged and super sleek style has disguised him as pop music's resident bad boy. However, all it takes is a close listen to his lyrics to know that the singer-songwriter and frontman of Maroon 5 wears his heart on his sleeve. Bold, handsome, and ambitious with a caring, sensitive heart is pretty much exactly what Adam Levine's zodiac sign says about him, too. Levine is actually a Pisces-Aries cusp. which makes a ton of sense. When someone is on the cusp of two seasons, they usually take on a blend of characteristics of both signs.
Since Levine's birthday is Mar. 18 he is a Pisces. However, because Aries season starts on Mar. 21, the cusp for the two signs is between Mar. 17 through Mar. 23. Pisceans are (almost infamously) known for their emotional, vulnerable, sensitive nature. This isn't instantly noticeable about Levine, what with his wardrobe of sleek black leather jackets, skinny jeans, and stylish hairstyles. This is where the cusp influence comes in, as Aries are known for their boldness, creativity, passion, and all-around bad*ssery.
Something that both Pisceans and Aries have in common is that they are super passionate partners and lover. This is super apparent when you look at Levine's marriage with model Behati Prinsloo. There are so many ways that Levine shows his love and care for his wife and they're really classic examples of how caring and passionate someone with a Pisces-Aries cusp can be.