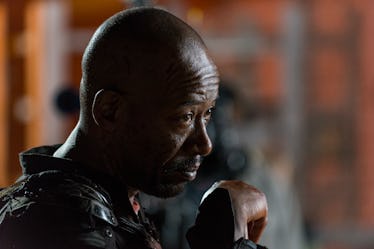 The Next Episode Of 'The Walking Dead' Is Going To Be An Emotional Roller Coaster
RIP, Carl. After a super eventful midseason premiere of The Walking Dead, we're left mourning our favorite young hero, played for eight seasons by Chandler Riggs. But don't stay down for too long: The Walking Dead Season 8 Episode 10 promo is here, and from the looks of it, things aren't calming down any time soon.
According to the promo, next Sunday's episode will continue the "All Out War" theme that's driven Season 8 so far. In Episode 10, we'll see the fallout from Carl's death (because you can't just rip out our hearts like that, AMC!) and will, maybe, possibly, finally see Rick and Negan show down. The Rick vs. Negan battle is just beginning to heat up, and knowing those two, they won't rest until the other is defeated.
In the promo, it was clear that fans are going to get a mixed bag next week. The first shot of the promo was Rick looking at the letter that Carl left behind for him before he died — but not reading it. We were also treated to images of Carl's grave, interspersed with what looked shots of the escalating war, and Rick and Negan screaming at each other through walkie-talkies. So, both the emotional drama we got this week, and the promise that things are going to get back to the hacking-bodies-apart gruesomeness of a war in the zombie apocalypse. It looks like the death of his son has pushed Rick over the edge — and the whole "all-out war" thing is going full tilt.
In addition to the emotional roller coaster, there are some other important developments that we'll see throughout the second half of Season 8. Most notably, Lennie James' character Morgan will be joining Fear The Walking Dead, a prequel spin-off of The Walking Dead. During an episode of the after show Talking Dead, James suggested that we won't be seeing more of Morgan in Season 9 and beyond. "The hardest part of it from beginning until now has been leaving The Walking Dead; leaving that cast and leaving that crew," he said. "And I've said my goodbyes to the cast and stuff, and I've said my goodbyes to the crew." It's unclear whether Morgan will die at the end of this season, but show runner Scott M. Gimple told Entertainment Weekly that no matter what happens, "Morgan's arc on The Walking Dead Season 8 positioned him for the story on Fear."
To add to the hurt of Morgan's departure (if you can call going back in time a "departure") rumors are swirling that Rick, played by Andrew Lincoln, will also be leaving The Walking Dead for Fear. It's not crazy to think that Rick may leave now that Carl is dead from a zombie bite — no matter what crazy zombie apocalypse stuff is going on around you, losing a son will make you reevaluate your priorities. Lincoln himself added fuel to the rumor fire when he suggested that Morgan's departure doesn't necessarily put an end to their friendship. "There were lots of goodbyes, and big goodbyes as well. But there was a sort of sense, certainly, with Lennie, that it's 'Until we meet again,'" he told Entertainment Weekly. "It's always been that way with Rick and Morgan. I don't know, there's something in the air, that I feel that it's not quite the end yet for Rick and Morgan."
On top of the who-will-be-dying-this-episode drama (that's The Walking Dead's version of will-they-or-won't-they drama), things are about to get a whole lot sexier during the zombie apocalypse. According to Executive Producer Greg Nicotero, Season 8 will also feature the a totally naked zombie. "There's an episode where we did our first fully nude walker. We've never done that before," said Nicotero. We have a lot of questions, but our first one is: how long does it take in the makeup trailer to zombify an entire naked human? Doing just a face, neck, and bit of arm is one thing, but an entire naked body? That's a commitment we don't think we can make.
Be sure not to miss The Walking Dead Season 8 Episode 10 next Sunday at 9 p.m. ET on AMC. It's clear it's going to take us on a ride.