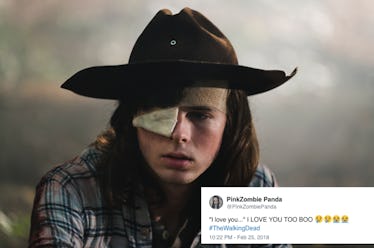 'The Walking Dead' Has Broken Us With This Midseason Premiere & No One Is OK
Gene Page/AMC
At long last, AMC's The Walking Dead has finally returned for the second half of the show's eighth season. Knowing that this week's episode was technically a "premiere" episode, fans knew to expect something major to happen. Although, when does something major ever not happen in an episode of this show? Still, the Feb. 25 episode really packed a punch. Spoilers for The Walking Dead Season 8, Episode 9 ahead. This week, we've suffered one of the worst losses in the show's history, and the tweets about Carl dying on The Walking Dead prove that his character will be sorely missed.
The last time we left everyone on this show, there were a decent amount of deaths happening left and right. So much so, that viewers could barely even keep track of the characters that were leaving, because there were just too many to count. But Sunday night's midseason finale stands in stark contrast to that episode, as fans of the show were only focusing on one death this time, and that death belonged to Carl.
His character's passing is one that hurts extra bad, because viewers of this show have essentially watched him grow up. So this loss was one that really hit home for a lot of TWD fans. I mean, just take a look and social media and tell me that the death of Carl didn't hit a nerve.
From the moment the episode started, no one was ready to see Carl go.
The scene that really seemed to destroy fans was when Carl spent his last day with Judith and finally gave her the sheriff's hat.
But that wasn't the last thing he did. Just before succumbing to the bite, Carl had a heartfelt talk with Rick, where he explained that the scenes we've been seeing of an old, bearded Rick were actually Carl's dreams of the future — a future where everyone was able to just live, happily. That shattered people.
Needless to say, when Carl actually died at the end of the episode, people had Feelings.
Yeah, the emotional reckoning is telling of how missed this character will be. This is probably one of the worst deaths that we've seen in the series altogether, and that's saying something, because there have been a lot of deaths. At the start of the episode as Carl was going about his day working outside (following the reveal of his bite marks, reminding us of his ultimate death), he looked up to the sun euphorically, smiling as the song "At The Bottom Of Everything" by the band Bright Eyes played in the background.
I knew then and there that Carl was going to be a goner by the end of the episode, and it was very sad to come to realize that fact. The lyric as he looked up to the sky was, "death will give us back to god / Just like the setting sun." I seriously could not have chosen a more perfect soundtrack option for this foreshadowing moment.
This loss hurt bad, but if you look at the episode as a whole, I think the show did Carl justice. Seeing as fans of this show basically watched him grow up before their eyes in the show's eight seasons, it's fitting that an entire episode was essentially dedicated to the loss of this character. It let this death truly sink in, and by the time Rick and Michonne buried Carl after watching him die, it felt right that this was our final goodbye.
But the fact is, if you've been following The Walking Dead, you knew that the death of Carl was inevitable. When we last left him off in the midseason finale, Negan and his crew had just raided Alexandria and we saw that Carl had bite marks on his chest — and we all know that a bite mark does not spell out anything good for the future of a character on this show.
It wasn't clear that Carl was actually dead by the end of the previous episode, and I'm sure that a lot of fans were hoping that he'd be able to somehow make it out alive in a twist of fate. But alas, this midseason premiere was Carl's unfortunate final episode — and this loss hurt like no other. We'll miss you, Carl. I know that I can speak for all fans when I say that The Walking Dead won't be the same without you.