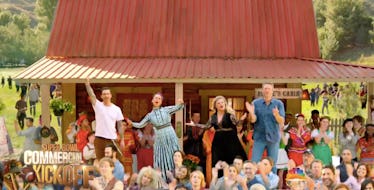 'The Voice' Judges Star In A Super Bowl Commercial & It's Actually Hilarious
NBC
Don't even lie: You know damn well that the commercials are basically the only reason for watching the Super Bowl in the first place. They make you laugh, they make you cry, and sometimes they make you go, WTF? But we don't even have to wait for the big game apparently, because some commercials have already been released, and let me tell you, there's one in particular that's hilarious, and it involves some people that are pretttty famous. Some people like Adam Levine, Blake Shelton, and Alicia Keys... perhaps you've heard of them before? Yep, the singers from the The Voice made a Super Bowl commercial song, and it is going to make you laugh until your face hurts.
For those of you who literally couldn't care less about football (but are solely invested in catching all of the Super Bowl commercials), you can tune in to NBC at 6:30 p.m. ET on Sunday, Feb. 4, to watch the Philadelphia Eagles and the New England Patriots play to win the Super Bowl LII.
But again, if the Super Bowl means nothing to you other than seeing companies who have shelled out tons of dolla dolla bills for a spot in the Super Bowl commercial line-up, have I got a fun teaser for you.
Let me paint a picture for you guys: Picture Blake Shelton (you know, the Sexiest Man Alive), relaxing on a rocking chair, looking as country as anything on the porch of a log cabin. It sort of seems like this is Blake Shelton's regular environment, TBH. No real excitement there, because this is what you'd expect from him.
But what you don't expect next is for PUPPIES TO POP UP FROM THE WOODEN BARREL NEXT TO HIM. A horse appears too, but again, that seems sort of normal given the location.
Shelton starts singing, "Ain't nothing like sittin' on a country porch with some Labrador puppies and a Clydesdale horse, and a country breeze," and everything looks so perfect:
See? Perfection. It can't get any better than this.
Except it totally does, because Adam Levine then pops on screen with an, erm, interesting mustache, and joins in singing. He then starts singing about his "awesome hair" and how sipping on grandma's lemonade (while on a motorcycle obviously) "accents my cheekbones," and then he sips the drink ever so gingerly, and he is so, so right. Sipping on lemonade does accent his cheekbones.
Hot damn.
Then our girl Alicia Keys appears on the piano, sitting on a "bale of hay" and, with a magical flick of her hand, has a group of children all spontaneously appear around her on the porch.
Alicia Keys, musician and magician. Who knew?
And if you thought that this was all very tongue-in-cheek funny (which it is) so far, just wait until you see who comes into the video next:
YES, FAM. THAT'S KELLY CLARKSON, walking in a field with a dress train that's at least a mile long, and if I'm being honest, it's a good look for her. Bow down to the queen, y'all.
But wait, you guys, there's more!
If you thought Carson Daly and a baby calf weren't going to make an appearance, you're absolutely wrong:
I don't know what's better: Daly's cowboy hat, his overalls, or the fact that he's cradling a baby farm animal. I think it's the hearty mixture of all three that does it for me.
You can watch the whole video below:
This whole absurdly funny video was shot because The Voice returns to NBC on Feb. 26, and you bet your ass that I'll be tuning in after that Oscar-worthy performance of a commercial.