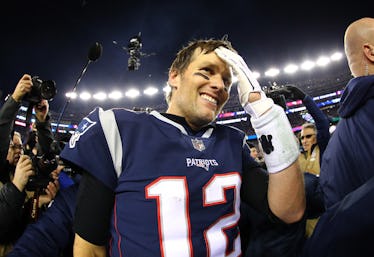 Here's Where To Watch Super Bowl LII If You're Hanging At Home
Maddie Meyer/Getty Images Sport/Getty Images
Attention sports ball fans: Your holy day is nearly here!! The Super Bowl is coming up on Sunday, Feb. 4, and after years and years of wondering, I've come to the conclusion that I'll never understand why people care more about the game than the halftime show. One of those things is clearly more entertaining than the other... but whatever. To each their own, I guess! If you want to watch the game but aren't sure where you can find it, you might be wondering: What channel is the 2018 Super Bowl on? The short answer is NBC, but let's dive in to all of the game's details.
Starting at noon EST on Sunday, Feb. 4, NBC will be airing a Road to the Super Bowl special focused on analyzing how the Patriots and the Eagles got to this year's championship. The Super Bowl pre-show will kick off (get it? #sportsballhumor) at 1 p.m. right after Road to the Super Bowl is over. The game will officially start at 6:30 p.m. EST and then a bunch of dudes will spend the following hours intentionally crashing into each other and probably giving themselves unnecessary concussions just so they can get a shiny trophy and a ring that's far too big for all of their hands. OK, OK, OK, I'm sorry. I'll stop with the shade now.
If you're a true millennial, you probably don't have cable. If that's the case for you, you can stream the 2018 Super Bowl on NBCSports.com starting at 6:30 p.m. EST on Feb. 4. Or you can go to your favorite sports bar and drink the night away (responsibly) with your fellow sportsball fan friends and watch the game from there. Be sure to get to that bar hella early, though, as everyone you know is probably going to have this same idea seeing as we're not parents who throw their own Super Bowl parties yet.
Speaking of Super Bowl parties, my 11-year-old self was at a Super Bowl party thrown by my parents' friends when the infamous Janet Jackson and Justin Timberlake nip slip happened during the 2004 Super Bowl Halftime Show. When it happened, I yelled, "OMG, are people allowed to show boobs on TV?!" And then I got in trouble for saying "boobs," which honestly was probably the least noteworthy thing that happened during that halftime show and therefore didn't need all the negative energy I got, but whatever.
Janet Jackson has never been asked back to the Super Bowl Halftime Show ever since that incident, which makes lots of fans mad that Timberlake has now been asked to perform this year.
Since the game was being broadcast live, the game's producers didn't have any time to blur out Jackson's exposed breast when Timberlake pulled off to much of her top in a previously choreographed move. The Federal Communications Commission (FCC) instilled a mandatory five-second broadcast delay for all live televised performances after the incident, and Janet Jackson had to publicly apologize for the slip (even though it was totally Timberlake's fault...). In a televised apology, Jackson said, "I am really sorry if I offended anyone. That was truly not my intention." Jackson was also banned from the 2004 Grammys because of it.
Lots of fans are calling for Timberlake to bring Jackson on stage with him to make amends for the wardrobe malfunction many feel he caused.
We'll have to wait until Sunday, Feb. 4, to find out if Timberlake will bring Janet Jackson out on stage with him, but I doubt he will, guys. He's probably not bringing out *NSYNC, either (much to my dismay). Timberlake's new album, Man of the Woods, is coming out just two days before the Super Bowl on Friday, Feb. 2, so he's probably going to dedicate his show to debuting some of his new songs. So, to sum this all up, you can watch the Patriots play the Eagles for the big shiny trophy on Sunday, Feb. 4, at 6:30 p.m. EST on NBC or NBCSports.com. No boy bands will (unfortunately) be involved in the making of the halftime show.