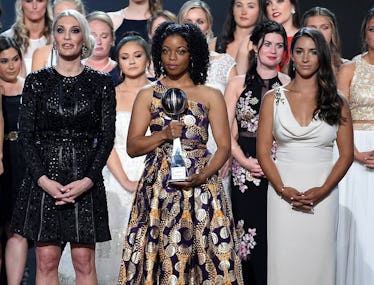 Over 100 Survivors Of Nassar's Abuse Were Honored At The ESPY's & It Was So Powerful
Kevork Djansezian/Getty Images Entertainment/Getty Images
The audience had good reason to be on its feet cheering on Wednesday at the 2018 ESPYS, an awards ceremony by sports network ESPN to honor athletes. There were plenty of inspiring moments and athletes on stage at the July 18 ceremony, but one moment in particular stood out above the rest. The video of the "sister survivors" of Larry Nassar's abuse accepting an ESPY award for courage was inarguably the most powerful moment of the evening.
Actress Jennifer Garner presented the survivors with the Arthur Ashe Award for Courage. Ashe, a late tennis icon, became a champion and advocate for survivors of HIV and AIDS after contracting the virus in the 1980s.
It was a moving sight as dozens upon dozens of gown-clad women poured on stage. In total, 141 women, all of whom had been abused by Nassar, were present to accept the award, per AJ+, but the survivors overall are said to number in the hundreds.
In January, Nassar, a former USA Gymnastics coach and team doctor at Michigan State University, was sentenced to more than a lifetime in jail following victim impact statements delivered by more than 150 women and girls alleging his abuse. Three of the survivors were formally accepted the award on behalf of the group: Olympic gymnast Aly Raisman, former gymnast Sarah Klein, and softball player Tiffany Thomas Lopez.
"Thank you ESPN and the Arthur Ashe family for honoring survivors of sexual abuse," Klein began the remarks Wednesday. "It is a privilege to stand up here with my sister survivors as we represent hundreds more who are not here with us tonight.
"Make no mistake," she continued. "We are here on this stage to present an image for the world to see, a portrait of survival, a new vision of courage."
Nassar's abuse went on for three decades, during which time survivors said they spoke up about the abuse to officials but were reportedly told they were wrong.
"The intention was to silence us in favor of money, medals, and reputation," Raisman said. "If just one adult had listened, believed, and acted ... the people on this stage would have never met him."
The women on stage were met with standing ovations, while many in the audience applauded and wiped tears from their eyes. But it wasn't just those in the physical audience — or even in the sports world — who were feeling emotional about their award Wednesday.
"So very honored & proud of the Sister-Survivors: poise, beauty, & strength inside and outside! Thank-you ESPN for honoring them at the ESPYS with the Arther [sic] Ashe Courage Award! Deserved," read a tweet apparently written by Rosemarie Aquilina, the judge who convicted Nassar.
Others, from politicians to advocacy groups, tweeted out their reactions.
Their speaking out collectively has had an impact. Nassar, now convicted, was sentenced to 140 to 310 years in prison on separate federal child pornography and sexual abuse charges.
"We celebrate your incredible bravery and the impact each of you has made on the world," tweeted the Rape, Abuse, and Incest National Network (RAINN).
The impact isn't limited to a legal conclusion. Thanks to their coming forward, the world now knows about what amounts to the largest sexual abuse case in U.S. sports history, as ESPN notes. As the award Wednesday acknowledged, their bravery has inarguably contributed a heightened awareness of abuse.
Rather than make it a night of darkness, though, the 141 survivors seemed to deliver a message of light to the audience and beyond. "To all the survivors out there," Raisman added in her speech Wednesday, "don't let anyone rewrite your story. Your truth does matter. You matter, and you are not alone."