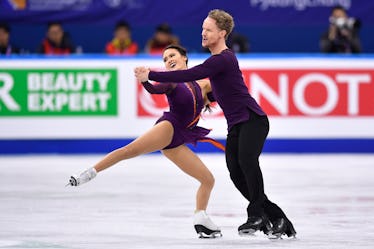 The Video Of This American Couple's Ice Dancing Fall Is So Devastating
Koki Nagahama/Getty Images Sport/Getty Images
Things took a turn for the worse for American ice dancing pair Madison Chock and Evan Bates this week in the 2018 PyeongChang Winter Olympics. The video of Chock and Bates' fall during the ice dance free program on Tuesday, Feb. 20 (Monday night U.S. time) shows what went wrong during their performance. They finished in ninth place overall after the rocky routine, missing the chance for an Olympic medal.
Chock and Bates danced to "Imagine" by John Lennon, a song that NBC says was chosen purposefully by the pair to convey a message. And the couple looked fairly smooth for the majority of the dance, which lasts between three minutes 50 seconds and four minutes 10 seconds. (Ice dancing may seem similar to pairs figure skating, but here's how to tell the difference.)
The fall happened during a combination spin, where the couple's skates appear to have gotten tangled as they spun. A move that they've done countless times in a split second became, literally, their downfall. After they momentarily landed on the ice, the couple swooped back up quickly and proceeded into their next element. But the damage was done.
"That is a disaster in ice dance," said the NBC commentator.
It was a heartbreaking moment for ice dancing fans.
You can see the full performance here.
Based on how scoring in ice skating competitions works, it's entirely possible for an ice skating pair to fall while attempting a move and still squeeze a win out of it if the move is difficult enough.
But in the case of Chock and Bates' fall on Tuesday, the error was enough to land them out of range of Olympic victory.
Chock and Bates were one of three ice dancing pairs representing the U.S. at the 2018 Games, and their fellow Americans did manage to place. The brother-sister pair Alex and Maia Shibutani — AKA the "Shib sibs" — pulled out a hard-won bronze, coming in behind record-breaking performances by French and Canadian pairs. Canadians Tessa Virtue and Scott Moir took gold, while the French duo Gabrielle Padadakis and Guillaume Cizeron came in second.
And it's not hard to fall during an event like this. Ice dancing isn't a walk in the park. Whereas pairs figure skating focuses more on lifts and throws, ice dancing fixates on the synchronicity of the partners, to execute every step and turn in perfect tandem. Even the angle and speed of their skates matters, and Chock and Bates' tumble on Tuesday didn't exactly exhibit the grace and flow that judges are looking for.
Despite their fall, Chock and Bates received an outpouring of support.
"What I LOVE is after Chock & Bates slipped the entire crowd cheered as they got and clapped to the music as the continued to encourage them," wrote NBC anchor Cheryl Preheim on Twitter.
"To fall like that — in front of the world — and get up with a smile, dance harder and finish the performance so beautifully is what makes athletes like Chock and Bates great Olympians," wrote one user on Twitter.
Chock and Bates are far from alone in either their missed chance for gold or the love that their fans showed despite it. On Saturday, Feb. 17, U.S. skiing star Lindsey Vonn, by many counts regarded as the best female skier in the world, failed to medal during her super-G event. Vonn's teammate, the beloved Mikaela Shiffrin, also bungled her signature event on Friday, Feb. 16.
But Chock and Bates, like fellow American Shiffrin and Vonn, took their Olympic failure in stride. "I wish I could have the moment back. But that's part of sport, a part of life," Bates said following the performance, per ESPN. "We have to come back. It's part of our story now."