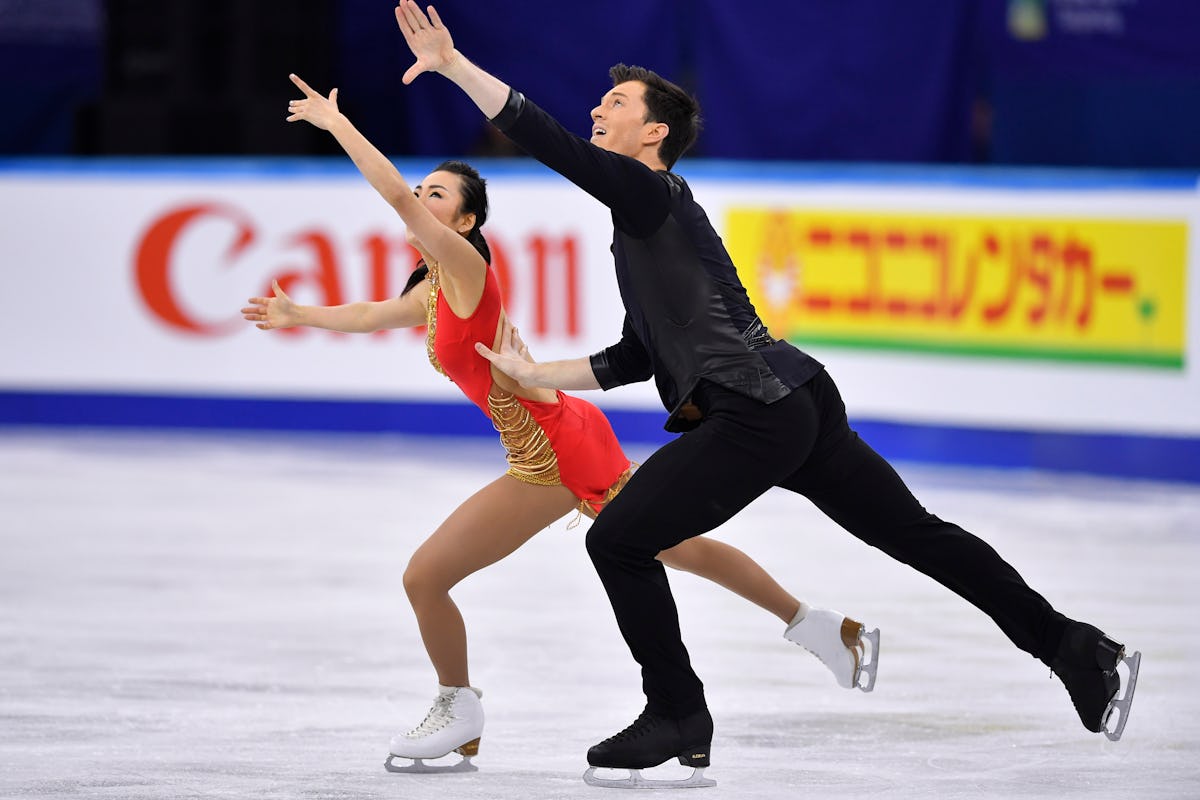 Ice Dancing & Pairs Figure Skating Are Similar, So Here's How To Distinguish Them
Koki Nagahama/Getty Images Sport/Getty Images
Figure skating is arguably one of the most enigmatic and difficult sports to follow in the Winter Olympics. To make matters harder for us laypeople, there are actually two different types of coupled skating events: Figure skating and ice dancing. If it all looks like a bunch of fancy spins done on ice, you're not alone. Here's how you can tell whether you're watching ice dancing versus pairs figure skating.
Between the costumes, the music, and the mind-blowing moves, there's a lot to keep track of. To break it down, figure skating comes in the form of ladies' solo, men's solo, and pairs events. Since ice dancers are always paired at the Olympics, you can tell right away that it's figure skating if it's a solo performance.
Here's another easy hint: This year, there's only one pairs figure skating couple representing the U.S.
But apart from that, the pairs events can be confusing. Both figure skating pairs and ice dancers compete in two stages, called programs. The short program is generally more technical, and requires competitors to perform certain selected moves. Then there's the long, or "free" program, which gives competitors more flexibility to showcase their strengths with a longer routine.
There are elements of skating and dancing involved in both ice dancing and pairs figure skating, so the differences in how they are performed lie in the details.
Pairs skating is more acrobatic.
For pairs skating, you'll be seeing intricate lifts, throws, jumps, and the like (ice dancing doesn't include any overhead lifts). Judges are concerned with the execution of technical moves more than how the skaters interpret the music. See this ridiculously impressive routine by U.S. figure skating husband-and-wife pair Alexa and Chris Knierim above? You're not going to see any sky-high tosses like this in ice dancing.
Pairs skaters traditionally weren't allowed to use music with lyrics until recently — and 2018 is the first Olympics where the controversial rule change will take effect.
The time limit for short programs pairs skating is two minutes 50 seconds, and for the free skate, a range of four minutes 20 seconds and four minutes 40 seconds.
Ice dancing more of, well, dancing done on ice.
"Ice dancing is more about the quality of the edges," former ice dancer and coach Justin Ross told NBC. "It's about the character, the passion of just the pure ice skating."
For ice dancing, judges are watching for more traditional dance elements like synchronicity, musical interpretation, footwork, grace, elegance, and overall artistry. In addition, partners are scored on their skating speed and angle, which should be in perfect sync.
Take a look at this routine by the Shibutanis, the superstar brother-sister duo repping the U.S., and you'll see the emphasis on their alignment and synchronicity. Some aspects are so similar to traditional partnered dances, in fact, it's easy to forget that they're doing all of this with the added complication of being on ice.
Including the "Shib sibs", there are three ice dancing pairs competing for the U.S. this year.
In this event, the short program runs between two minutes 50 seconds and three minutes, and the long program from three minutes 50 seconds to four minutes 10 seconds. Per The Washington Post, 24 pairs will take the ice, but only 20 will move on to the next round.
Ice dancers have always been allowed to perform to lyrical songs, so it might be trickier to differentiate between the two now that all competitors can.
But there are a couple other dead giveaways that it's ice dancing. The short dance must use a Rhumba beat an any additional latin rhythms including salsa, mambo, bachata, merengue, and samba. Per NBC, the International Skating Union (ISU) chooses a mandated genre to which ice dancers have to perform. The free dance doesn't have any genre restrictions, but it still has to be done with a rhythmic beat, and the judges will be looking for an "interesting, colorful, entertaining dance program with difference dance moods or a building effect."
An easy distinction for the folks at home: If the music is more melodic, and if the routine involves lots of lifts, throws, and spins, it's probably figure skating. If the music is rhythmic, and the skaters are more focused on technical footwork and styling, it's probably ice dancing.
If it's still all Greek to you, tune in and see for yourself what the different events look like. I can't promise you'll be an expert, but you'll probably be wowed nonetheless.
To learn more, visit teamusa.org. The Winter Olympics will air live, starting February 8.