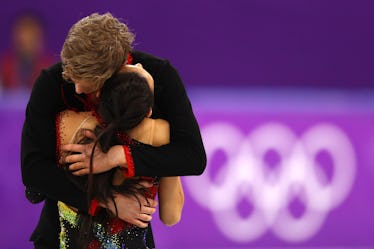 This American Pair Fell During Ice Dancing & It Was So Devastating
Dean Mouhtaropoulos/Getty Images Sport/Getty Images
On Tuesday, Feb. 20 in PyeongChang, South Korea (Monday night in the U.S.), in a devastating turn of events, American ice dancing pair Madison Chock and Evan Bates fell. The two were in the middle of a stunningly beautiful free skate routine when they fell during a combination. The fall happened during a spin element, and with both of them falling to the ice, it resulted in a major deduction that effectively put Chock and Bates out of the running for a medal in the ice dancing competition at the 2018 Winter Olympics. They ended in ninth place overall in the ice dancing competition.
Both Chock and Bates fell in the middle of a spin element. Essentially what happened was that they tripped over each other. While facing towards each other during the element, with their arms around each other for the spin, their skates connected, and they both came down.
Tanith White, who was commentating the competition on NBC and is herself an ice dancer, explained what happened in a slow-motion replay of the fall. "It just looked like she wasn't ahead of him enough on the circle; he stepped into the spin just a little bit sooner than she was ready, and with them both going down that's a two point deduction, one point each," White said on air.
In previous competitions, that particular spin element has earned Bates and Chock nearly seven points. When the final score came in for their free dance, they earned 100.13, adding up to a total of 175.58 points. That put them in the third place spot — but there were still other pairs left to perform their own free skates, including their Team USA teammates Alex and Maia Shibutani, whose short dance program score was just barely below Chock and Bates' score. Sure enough, when the Shib Sibs skated their free skate a few pairs later, they scored 114.86, putting them well above Chock and Bates. That score confirmed that there was basically no chance for Chock and Bates to make the podium, mostly because of that fall.
Ultimately, the Canadian pair of Tessa Virtue and Scott Moir took home the gold, with the French pair Gabriella Papadakis and Guillaume Cizeron taking silver, and the Shibutanis taking the bronze.
Chock and Bates' free dance was to a version of John Lennon's "Imagine." It was, really, an absolutely gorgeous dance up until that fall. And then, even after the fall, they skated beautifully to the finish. The fall came just about in the middle of the free dance routine.
Although Chock and Bates bounced back up to skate wonderfully through the end of their routine, Twitter crumbled at the fall.
Once they finished their program, Chock choked back tears.
Bates reached out to her and steadied her for a long moment before they did their bows. It was, all told, one of the most emotionally affecting moments of the 2018 Winter Olympics. "I wish I could have the moment back. But that's part of sport, a part of life. We have to come back. It's part of our story now," Bates said after the performance, according to ESPN.
Chock and Bates, who have been teammates since 2011 and dating since 2016, were competing to overcome the odds. Chock was actually competing with a foot injury that flared up during the warmup right before the short dance, which took place the day before the free skate. It does not appear that the injury was what led to the fall, however. Based on the video, it was as simple as tripping.
"We go through everything together; all the highs and all lows," Chock told People about their relationship, leading up to the final day of competition. The couple has said that it really is going through the good and the bad that brought them closer together off the ice, if going through something devastating together is any consolation following this performance.
"If everything had been going swimmingly over the past few seasons, with gold medals galore, I think, through it all, the difficult times created a really beautiful relationship that we now share," Bates told NBC in late 2017. "Who knows? Maybe it would've never happened if everything was going great."