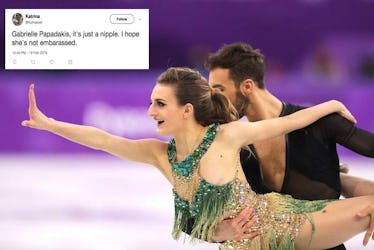 This Ice Dancer Dealt With A Serious Wardrobe Malfunction & Is Still A Gold Medal Contender
Richard Heathcote/Getty Images Sport/Getty Images
The Olympic Games are a collection of the literal best-of-the-best athletes from all over the world. Figure skating and ice dancing are two of my favorite sports to watch, but a recent performance had everyone talking about more than dramatic spins. Gabriella Papadakis' wardrobe malfunction during her ice dancing routine was heartbreaking to watch, but it couldn't keep her from executing a world class skate.
This is already the second major wardrobe mishap at the 2018 PyeongChang winter games — fellow ice dancer Yura Min's wardrobe malfunction also had everyone talking. At first it may seem like a crazy coincidence that both wardrobe malfunctions happened within the same sport, but when you think about the flashy, revealing costumes that the female competitors must wear, it's almost surprising there haven't been even more issues.
Papadakis' costume began to come undone only seconds into her routine with partner Guillaume Cizeron. There appeared to be a clasp at the back of her neck holding most of the top half of her glitzy costume in place, and when it popped open, Papadakis was forced to try and hold up her top for the rest of her skate. There may have also been some wardrobe tape to thank for her top not completely falling off, but Papadakis and Cizeron managed to still give an epic performance.
You can see here where Papadakis' top came unclasped, but also notice how she is still skating like a d*mn champ.
Once pair finished the routine, NBC Sports announcer Tanith White couldn't help but discuss the wardrobe malfunction,
I can't even describe not only how distracting that is but just how disappointing it is that they had to perform that program with that distraction for themselves. It's just not the kind of thing that you want to have to worry about in competition. They are such exceptional skaters, but unfortunately, that was distracting throughout the entire program and it hurt them in their technical execution, which is really where they shine. They are such a strong team, I'm just heartbroken that this even had to be a part of their Olympic story."
Papadakis was deducted some points for technical execution; she obviously couldn't perform every move as perfectly planned while also holding up her top. The routine still garnered her second place, but IMHO, she should have gotten extra points for skating so well while under threat of exposing herself.
Twitter offered support and kind words for Papadakis
If I were in Papadakis' skates, I probably would have run off the ice in tears mid-routine, but the French athlete handled it like a true professional. "A million points" to her for sure.
One user used humor to point out that the whole issue isn't that big of a deal. Mistakes happen and the world has seen nipples on TV before — shout out to Janet Jackson's 2004 super bowl performance.
Many people were very angry on the skater's behalf for the slow motion replay of her top coming undone. Papadakis' impeccable routine was almost deliberately overshadowed by her faulty costume, which this user rightfully called "disrespectful."
Other users agreed that the replay was completely unnecessary.
Maybe skaters can wear less revealing outfits in the future? Just an idea. In fact, why can't female competitors wear pants if they prefer?
I think she already deserves to win the gold medal.
If you think this was distracting for you while watching, just imagine how Papadakis must have felt.
I couldn't agree more.
Papadakis and Cizeron are currently in second place in the ice dancing standings, behind Canada's Tessa Virtue and Scott Moir. The ice dancing finals will air tonight, Feb. 19 on NBC, and the French duo still have a decent chance at winning gold. Fingers crossed that all Twitter will be talking about tonight is actual sportsmanship.