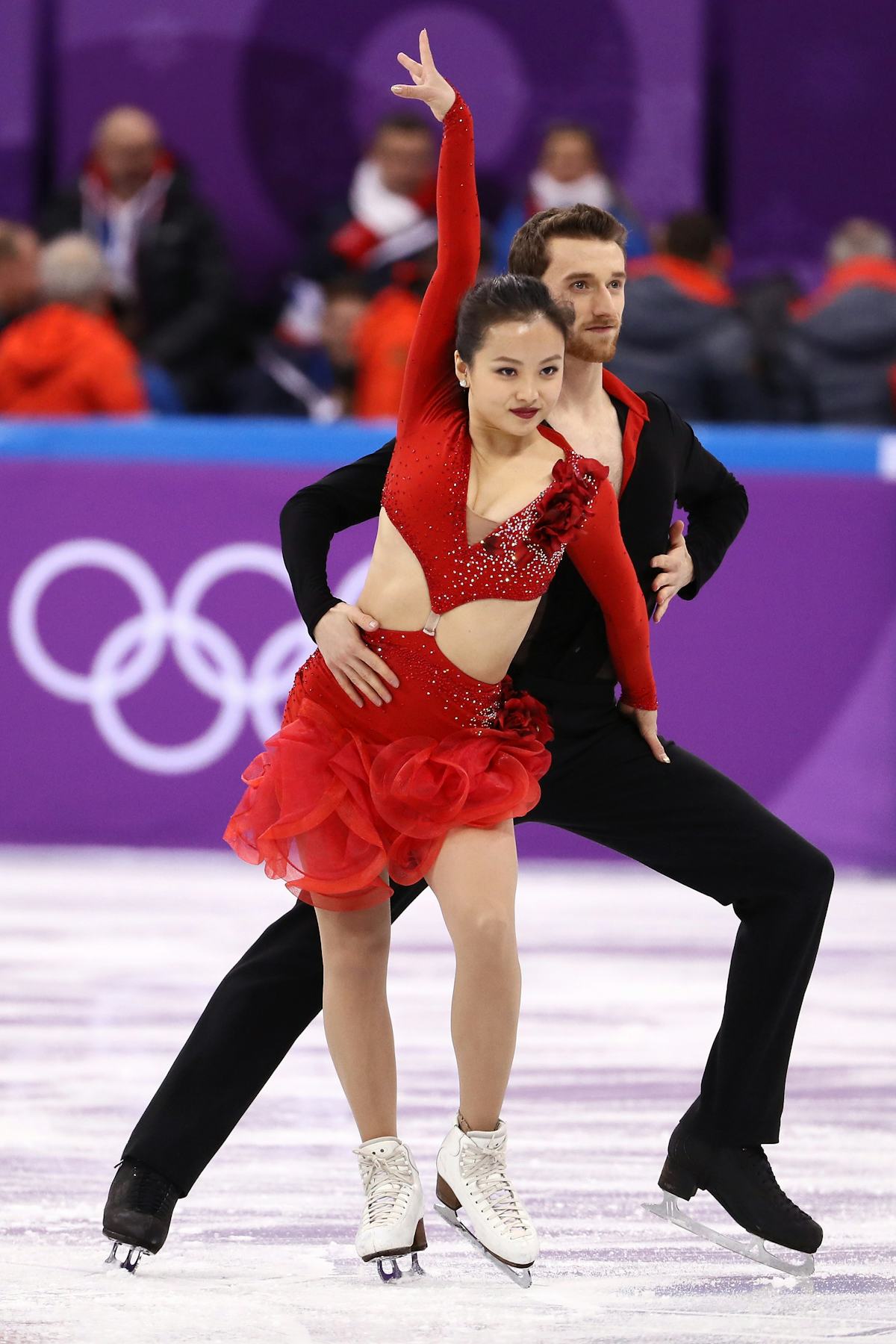 This Olympic Ice Dancer Had A Terrible Wardrobe Malfunction, But Twitter Championed Her
Jamie Squire/Getty Images Sport/Getty Images
You've had that dream: You're delivering a speech, performing on stage, or giving a presentation at work and out of nowhere, you realize you're completely topless. Well, a South Korean ice dancer just lived our worst nightmare in front of the entire world while performing at the Olympics. Yura Min's skating costume malfunctioned and completely gave out just seconds into beginning her routine, and she came dangerously close to giving an entirely different kind of show.
Yura Min and her partner Alex Gamelin looked totally ready as they smiled and got into position to throw it down in the figure skating team event during the Pyeongchang 2018 Winter Olympic Games on Sunday. The spotlights were focused on them and the music went on (in case you're wondering, the song of choice was "Despacito"!).
Everything was in place (or so they thought) and Yura Min looked stunning in her red sparkly outfit. However, just a few turns in, her top went flying open from behind. The hook holding her costume closed at the back of her neck had come completely undone — and of course, it happened to be the most important piece holding together her plunging-neckline top. At one point her entire left shoulder had creeped out of her costume. In between turns and graceful leaps, she (and even her super sweet partner) tried sneaking in tugs and pulls to keep her from popping out of her pretty outfit.
I've never been an ice dancer (not even close) but I was a cheerleader. While they may be completely different sports — yes, cheerleading is a sport and yes, it should 100 percent be in the Olympics, but that's a different conversation for a different day — they do have their similarities. When I used to cheer competitively, the first rule was no matter what happens, you don't stop cheering. I've seen girls lose their hairpieces and shoes, drop props and pom pons (and even their fellow teammates), but they never missed a beat of their routine.
I'm sure I've been guilty of a wardrobe malfuntion or two over the years, but not one that even comes close to Yura Min's. Not to mention one as public as hers. If my top busted open, I think that would be the most-acceptable time for me to run off the stage. But not Min. She just kept twirling, shimmying her shoulders and shaking her hips. Now that's a girl that knows the show must go on.
For the remaining three minutes of her routine, she kept it moving like a true pro. The only thing standing between her and the worst nip slip in Olympic history was a clear strap that attached to either side of her top. Her entire routine was literally hanging on by a thread, but you would never know it from her smile and spot-on dance moves. She just kept on shaking it.
Even after she got off the ice, she was in the best of spirits and even made jokes of her close call. You can see her wrapping herself in her team jacket and even covering up the goods with a huge smile on her face. She later took to Twitter to share her good humor.
"Despite the wardrobe malfunction, I had an amazing time competing in my home country! I promise to sew myself in for the individual event. I would like to thank the audience for keeping us going until the end. Couldn't have done it without you guys #grateful."
I mean, serious life goals right there. If only we could all recover from anything with as much grace, we'd all be much better people. It's just so endearing!
I mean, look at her:
Comedian Leslie Jones gave hilarious commentary on the routine and ultimately gave major props to the determined athlete, "that's a soldier right there," she yelled at her TV. "Do you hear me? She ain't going to stop." Our thoughts exactly, Leslie!
People all over twitter sympathized with the Olympic ice dancer saying "that's a lot of pressure" and "I felt so bad you could see her top was coming undone."
But in the end, the consensus was that Yura Min handled herself like a total professional. Messages like "amazing grace under impossible pressure," you're my hero," and "you couldn't have handled it any cooler! Well done," flooded her Twitter feed.
Yura Min and Alex Gamelin ended up coming in second-to-last place in the team event. Can you believe points were deducted from their score and ultimately landed them ninth place out of ten with 51.97 points? I don't know what a total nip slip gets you, but really judges, you couldn't let this one slide?
Not to worry though. The adorable duo will get a second chance during the regular ice dancing competition later in the Winter Games and I'm sure Min will be double (and triple checking) those hooks, so we shouldn't expect a re-do. If it was me, I would've stopped everything (even my favorite Luis Fonsi song) to put the girls back in place and secure that hook. But if I've learned anything from watching Yura Min do her thing, it's this: When things get scary, push through because you never know what will come from it and do it with a genuine smile — one that shines so bright, not even an expensive glittery outfit can rival it.