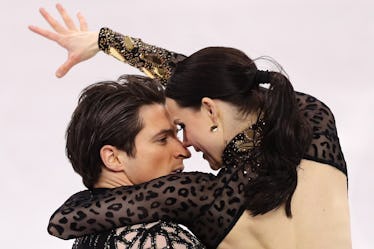 Tessa Virtue & Scott Moir's Chemistry Is Unbelievable & Twitter Loves It
Maddie Meyer/Getty Images Sport/Getty Images
Simply put, Tessa Virtue and Scott Moir are like a fairytale on ice. Since they debuted on our televisions during the 2018 PyeongChang Games, they've showcased some of the most fiery and captivating performances I've ever seen. I mean, they just seem like they fit together: she effortlessly folds into him and he's able to concentrate enough to spin her in the air while maintaining his balance — regardless of raging music and cheering fans. They sync perfectly into one other, and the tweets about Tessa Virtue and Scott Moir's chemistry say the same.
Virtue and Moir's chemistry is nothing new. On Sunday, Feb. 18, (Feb. 19 in South Korea) the ice skating duo looked amazing as they skated to a saucy Latin-themed set that included The Rolling Stones' "Sympathy for the Devil," an acoustic version of the Eagles' "Hotel California" and Santana's "Oye Como Va," according to The Huffington Post. After such a sizzling performance, it wasn't too surprising when they earned a record-breaking score of 83.67. And it seems like they've decided to continue their impressive streak. On Feb. 20, the Canadian duo gave us another sultry showdown, dancing to songs from the super romantic film Moulin Rouge, including "Roxanne" and "Come What May" by Ewan McGregor and Nicole Kidman, according to TIME.
Even though the skaters maintain that their relationship is totally platonic, fans can't help but hope. After all, their performances remind us all of just how great they look together.
Twitter users can't deny Virtue and Moir's chemistry.
One user said the pair has more chemistry in "any single moment of a 4-minute performance" than "the ENTIRE '50 Shades' trilogy."
That's... a lot. But at the same time, I don't know if I can deny it.
After their free dance performance on Feb. 19 (Feb. 20 in South Korea)... well, let's just say no one changed their minds.
And their amazing performance won them more than just a bunch of thirsty fans.
With a score of 122.40 for the free dance, the pair took first place — and the gold medal.
Though they just seem so perfect on ice, Virtue said their performances are about "gaining experience." According to Olympic.org, she said,
I think there is something about taking time away and gaining perspective and also it's a testament to our team in Montreal and our coaches Marie-France (Dubreuil) and Patrice (Lauzon). They really set us up for this moment. We are so prepared and we are savouring every bit of it.
When speaking about their record-breaking performance, Moir added that they are just focused on staying "on our game." He said,
That's something we are really proud of. That is every athlete's goal here and to come out and do the best you can. And to do it on this stage, we're really, really proud of that. We know our work isn't over. It's a long event. The biggest chunk is tomorrow and we have to stay on our game.
TheTalko also reported that Moir said their relationship is just about "telling stories" and that they have a "cool relationship." He said,
We're always telling stories. We're supposed to be reacting. A man and woman on the ice. It's romantic. What have is such a cool relationship.
*sigh* Their chemistry is too perfect to downplay it like this.
Tonight's win is their second gold medal at this year's Olympics.
The duo started the ice dance free dance in first place, and maintained it to win their second gold of the year, after they helped Team Canada to take gold in the team figure skating event on Feb. 12. The duo also won gold at the 2010 Olympics in Vancouver, Canada, and silver at the 2014 Sochi Games.
If there was a romance, it'd be the perfect addition to their epic expertise on ice. Sure, the way Virtue and Moir gaze at each other or interweave perfectly together could just be a part of their act, but I'm going to keep dreaming that one day they'll have an off-the-ice romance. That would be the real fairytale.