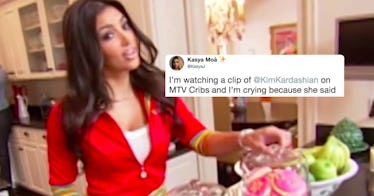 Fans Are Trolling Kim K For This Hilariously Awkward Clip From Her 2007 'MTV Cribs' Episode
Facebook / MTV Cribs
Stop whatever it is you're doing, you guys. If you're at work, leave early. If you're at the gym, get off the treadmill. If you're sitting on the couch with your laptop in your lap, well, actually, just stay exactly like that. An old video of Kim Kardashian has been unearthed, and when I tell you it is the purest, most hilariously perfect footage that has ever graced this planet, I. AM. NOT. LYING. This video of Kim Kardashian's MTV Cribs episode has everything you'll ever need in this world: it's got a young Kim Kardashian, random cameos by the Kardashian siblings, cheesy footage of the Kardashian's home, and very, very peculiar details that will make you question what the hell Kim was thinking while she was taking the cameras through this tour.
There are literally too many cringe-worthy things to point out in the video, but I'm going to do my best to highlight the best parts, because honestly, it's what we all deserve. So close your eyes and think back to a simpler time, when Kim Kardashian didn't have the last name "West," and having a stripper pole in your room was considered cool.
Are you there yet?
The video starts off with Kim K looking like a legitimate real estate agent, asking us to follow her into the kitchen of her family home. "There's usually lots of friends and family members in the kitchen," Kardashian starts off, knowing FULL WELL that Khloé, Kourtney, Rob, and a few other friends are just chilling there, basically waiting for cameras to arrive (that didn't stop her from feigning surprise when she finds them there, though, obviously). Kourtney is laying on the countertop (as one does), and honestly, the scene looks so staged that you can't go a full second of watching it without wanting to burst out laughing.
Come on, nobody else just lays down next to their sink, a là Kourtney?
Kim proceeds to tell the camera that she's a "baker," pointing towards the VERY homemade-looking cookies on the kitchen island:
So weird, I see those exact cookies all the time in Stop & Shop!
Tour guide Kim takes the camera to the guest room, where she notes the chandelier has "real amethysts in it," which is obviously very important to her, and then guides us to the living room, where she shows us some precious family photos of the Kardashians on the mantel. The photos are kind of cute, TBH, so I have nothing witty to say.
But luckily, there is so much more that I can poke fun at in this video, like when Kim "surprisingly" walks in on Kourtney and Khloé in a totally un-staged position, wrestling on the couch:
Kim tells the camera that her sisters are "very silly" and then goes on to say that her "absolute favorite thing in the room" is... you guessed it... ANOTHER CHANDELIER! I had no idea that Kim had such an affinity for lighting until this very moment, fam.
We're then escorted to Kim's bedroom, where she has an actual shrine of her younger self, because, according to her, "everyone needs a shrine of themselves" (???). She then gives us a small taste of the most boring stripper routine on her bedroom stripper pole. Not going to lie, Kylie's pole dancing skills were a thousand times better than Kim's.
Tour guide Kim then brings us into her closet, where it looks like a Louis Vuitton flagship store is actually located, then has the camera follow her to both the back AND front yard, where she debuts her car collection. And, in case you didn't know, Kim Kardashian apparently was set to have her very own car rim line, which is why she showed off the rims on her own Range Rover and tells the camera that the collection "comes out at the end of the summer":
Did this happen? Did I miss that memo?
She finishes her tour in a very creepy-looking miniature house that they have in the yard where her younger siblings (that would be Kylie and Kendall) play, and honestly, it just seems like this is a lot to handle for me personally.
But then, just like that, the tour is over, and I find myself almost wanting more, even though what I've seen is probably already too much.
If you do one thing for yourself today, it would be to watch the video below. I guarantee that it will be the most incredible six minutes of your entire life:
Fans were absolutely living for this throwback video, and took to social media to express their thoughts about the whole thing. The most talked about clip of the show was undoubtedly those "homemade" cookies that Kim K claimed she baked, and Twitter ROASTED her for it:
We know a fake baker when we see one, Kim.
Some fans noted Kim's very unique early '00s attire, while others just praised her decor choices:
But the most important question of the night goes to this Twitter user, who wants to know WHAT HAPPENED TO KIM KARDASHIAN'S RIMS LINE:
I, too, would like some updated information on this too, plz.
So there you have it, folks. I hope that this has brought you immense joy and happiness like it has for me.