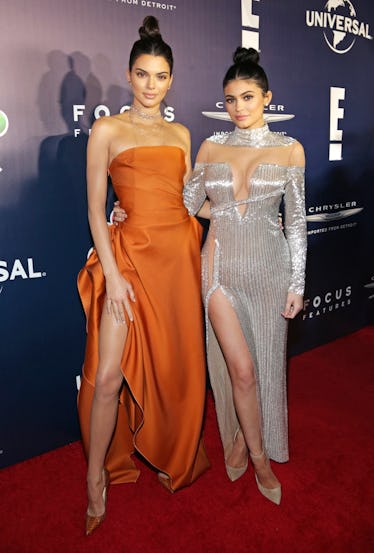 Kendall Jenner Opens Up About Her Reaction When Kylie Jenner Revealed She Was Pregnant
Loreen Sarkis/Getty Images Entertainment/Getty Images
With a handful of sisters, you'd think that Kendall Jenner would be a total pro at learning that she's going to be an aunt yet again. But apparently, not so! For her older sisters, it didn't seem all that surprising, but Kendall Jenner's reaction to Kylie Jenner having a baby was serious shock, mainly because that's her baby sister. Baby sister having a baby before you probably equals confusion, so I can totally understand Kendall's initial thoughts.
In an interview with Elle, Jenner opened up about hearing of sister Kylie's pregnancy for the first time. "It's obviously a bit weird that your little sister is having a baby before you. I didn't expect it to happen like this. But it's beautiful," Jenner said, making her the sweetest big sister of the century, in my opinion. She also filled the world in on how motherhood has changed Kylie, and how it's altered their relationship in a really positive way. She said,
It's brought us closer together. We've always been very close, but we would butt heads all the time. This has made her a bit more loving toward me.
BRB, just gotta call my sister and tell her how much I love her.
In case the last few months have made you completely forget: Kylie Jenner basically trolled the world for what felt like centuries, never confirming whether or not she was pregnant. Her public appearances dwindled down to zero, her social media page basically took a hiatus, and many fans speculated it was because she was hiding a baby bump (news flash: they were right).
Back in November 2017, a source told People that it was because pregnant Kylie wanted to "focus on her health and happiness" that she wouldn't be revealing her pregnancy until after she gave birth (spoiler alert: right yet again). The source said,
Kylie wants to disappear and be out of the spotlight and focus on her health and happiness ... Kylie isn't going to publicly address her pregnancy until she gives birth. She's not doing any public appearances and just wanted to take six months off. Kylie is only trusting her closest friends and her sisters right now. She wants to reveal things on her own terms but she's, of course, having fun teasing everyone. She knows all the attention is on her and her baby bump, but she won't share until she wants to.
And yes fam, we got played. We got played HARD, because we had to wait several agonizing months debating this bit of information. Was she in hiding because she was pregnant? Was she just tired of the spotlight? Did she have a pimple that just simply would not go away?
Of course, as we all know now, it was because she was pregnant, and on Feb. 4, 2018, Kylie Jenner posted an Instagram confirming that she and boyfriend Travis Scott welcomed a baby daughter into the world on Feb. 1, 2018:
Is it weird that I still tear up reading that post? Whatever, I don't even care at this point.
So, with all of these little babies running around the Kardashian-Jenner household, does Kendall Jenner ever think about having some of her own? I mean, you've seen the Kardashians' offspring. They're all freaking adorable, so it has to be tempting, right?
In appearance on The Ellen DeGeneres Show on Thursday, March 15, Jenner talked about motherhood herself and the possibility of having children. She said, "I have moments when I'm like, 'Do I have baby fever?' but I don't! ... I can wait for a little while longer, but it's awesome because I have all these little babies to play with and then I can give them back."
As an aunt myself, I feel that sentiment SO hard.
Until the time comes when we can obsess over Kendall Jenner being a mom, we'll just keep watching Kim, Khloé, Kourtney, and Kylie do the damn thang with their lil' ones. Take yo' time, Kendall!