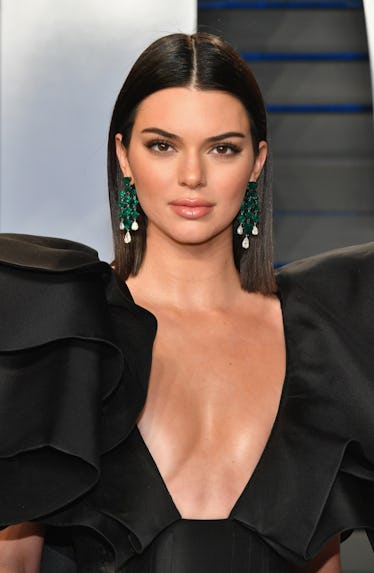 Kendall Jenner Gets Real About "Baby Fever" & Being The Only Kardashian Without Kids
Dia Dipasupil/Getty Images Entertainment/Getty Images
Kendall Jenner is now the only one of her siblings (on the Kardashian side) who hasn't had a kid yet, and she talked about being an aunt, her tattoos, and more in an appearance on The Ellen DeGeneres Show on Thursday, March 15. Now that Kylie Jenner and Khloé Kardashian have long since confirmed the news of their first children, that "will Kendall Jenner have kids?" elephant-in-the-room of a question is probably popping up in a lot of fans' minds. Let's first cover our bases by saying Jenner will have kids if/when she feels she's ready. But Jenner actually did talk about "baby fever" with DeGeneres, so I guess the whole family is finally cool with talking about all of the baby news instead of making it impossible to actually keep up with the Kardashians.
In the interview, DeGeneres joked about being the sixth Kardashian/Jenner sister (she has an alter ego named Karla Kardashian) and jokes about Karla being Kim and Kanye's surrogate. Then she and Jenner talked about the possibility of Jenner having her own kids one day. Jenner said that when she's around all of her nieces and nephews (she currently has eight and will soon have nine once Khloé's baby is born), she definitely thinks about motherhood. "I have moments when I'm like, 'Do I have baby fever?' but I don't!" she said. "But I'm good. I can wait for a little while longer, but it's awesome because I have all these little babies to play with and then I can give them back." As an aunt myself, I relate to this hardcore.
Jenner also talked about her tattoos in the interview with DeGeneres. Her tattoo on the inside of her bottom lip was one of the things DeGeneres was dying to talk about. DeGeneres said, "All right, I need to see this tattoo that you did."
She's talking about the tattoo Jenner got in 2016 on the inside of her bottom lip that straight-up just says "meow."
Jenner has never revealed the inspiration behind the tattoo... until now. And guys, she was drunk when she got it. LOL. Been there, done that. Have the tat to prove it. ~No regrets~. She told DeGeneres, "I was drunk! I was not thinking clearly. It was literally the first thing that came to my mind. I don't know, just my drunk thoughts." She then added that the lip tattoo barely hurt at all, saying, "It's just like fatiness but it's not, like, bone hurts really bad."
She added that her first tattoo hurt when she was getting it. It's a little white dot on one of her fingers.
And she apparently got it because she was curious about what it felt like to get a tattoo. "My first one was a white dot because I just wanted to know what it felt like," she told DeGeneres. "All my friends have them! I just wanted to know what it feels like."
We've been learning a lot about Kendall Jenner this week. She recently talked about her sexuality and her relationships in an interview with Vogue. In a rare moment, she talked about her sexuality and her love life to seemingly clear some things up for fans.
You see, there are lots of fans who think Kendall Jenner is gay.
But Jenner seemingly put those rumors to rest by saying, "I don't think I have a bisexual or gay bone in my body, but I don't know! Who knows?! I'm all down for experience — not against it whatsoever — but I've never been there before." Jenner added she feels she has a "male energy" in the sense that she feels her energy is "tough." She said,
Also, I know I have kind of a ... male energy? But I don't want to say that wrong, because I'm not transgender or anything. But I have a tough energy. I move differently. But to answer your question: I'm not gay. I have literally nothing to hide. I would never hide something like that.
Jenner thinks people started making theories about her sexuality because she's a lot more private about her relationships than her sisters are. She said,
I think it's because I'm not like all my other sisters, who are like, 'Here's me and my boyfriend!' So it was a thing for a minute because no one ever saw me with a guy. I would always go that extra mile to be low-key with guys, sneaking around all the time. You don't want to, like, look crazy.
But she told Vogue that she's with someone right now who treats her well and makes her happy. There are theories saying this person is Detroit Pistons player Blake Griffin, but Jenner made no mention of him in the interview. All she said was, "Yeah... no. I'm happy. He's very nice. I have someone being very nice to me." I wonder if this "very nice" person has met her eight nieces and nephews yet? Guess we'll never know!