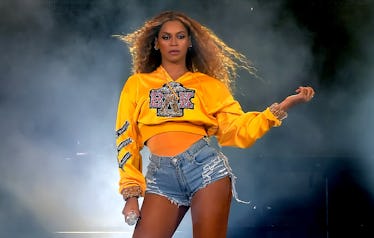 Beyoncé's Coachella Performance Was Groundbreaking & You Need To See It
Kevin Winter/Getty Images Entertainment/Getty Images
Between the star-studded music lineup, fabulous food, and sick fashion scene, there are a ton of reasons why everyone loves Coachella. However, I would have wanted to go to see the one and only Queen Bey perform live in the middle of a Californian desert. Is there anything better than that? Good lord, it sounds like a fairytale. Even though I wasn't fortunate enough to see her perform in person, the video of Beyoncé's Coachella performance made me feel like I saw it up close. Even after watching it on a screen from 3,000 miles away, I am so shook.
Beyoncé headlined Coachella at 11:05 p.m. PT on Saturday, April 14, and it was amazing. If you were lucky enough to be there, you were most likely front row for her late-night set. And if all of this is true, I know for a fact that your entire life was changed forever. Yeah whatever, just keep rubbing it in, why don't you? I'm not salty, you're salty.
If you're super homesick for the Bey Hive (because same) and you're on the opposite side of the country, there's a pretty good chance you watched her live stream at 2 a.m. ET. In which case, your incessant cheering probably woke up all of your neighbors. If you weren't able to stay up that late, though, videos of her performances are floating around in the abyss of the internet, and they will rock your world. For real, I am still in awe.
Beyoncé's performance was everything you'd expect and more from Queen Bey, and there was even a Destiny's Child reunion. After Beyoncé, Kelly Rowland, and Michelle Williams walked out to one of their hits, "Lose My Breath," they performed "Say My Name" and "Soldier," and it was pretty much everything you could want from a Destiny's Child reunion.
Bey also performed "Déjà Vu" with hubby JAY-Z, and the video will get you so pumped for the couple's upcoming tour.
While I would have loved to see Chance the Rapper, Kendrick Lamar, Haim, and even maybe the Yodeling Walmart Kid performing live in the desert of Indio, California, there's no way that Beyoncé's set wasn't the best one. Sorry everyone, it seems like Coachella is officially canceled. Watching all of that in person would have been truly life changing, and even though there will be more opportunities to see Bey perform in the future, this one was unlike any other. Like, I definitely cried a little. But thanks to technology, I can watch it 8,000 more times and cry by myself all day long. Yay! Internet videos legitimately make my world go round; you have no freaking idea.
After watching her jaw-dropping set from your computer screen, you probably have the worst FOMO ever (because like, same). But on the bright side, Bey and longtime hubby, JAY-Z, are once again going on tour together, and everything is about to get so damn real. The couple hasn't performed on tour together since On The Run in 2014 — and since you've probably seen and listened to Lemonade ten thousand times, you know that a lot has happened since then. Since the two are finally going to be reunited on stage, I'm positive that the concert is going to be so lit. If you have any common sense, I'll see you there. You're welcome.
If you were there, I know watching Beyoncé's Coachella set in person probably gave you some sort of life crisis. I mean really, she is so powerful. I'm pretty devastated I wasn't actually there, but the recording of her performance will just have to suffice for now... so goodbye social life. If you don't spend the day watching Beyoncé's Coachella set on repeat, are you even part of the Bey Hive?