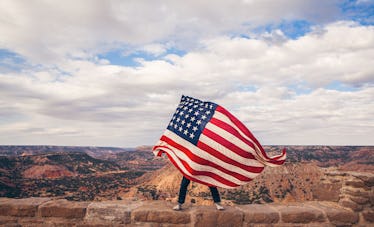 The U.S. City You Need To Visit This Summer, According To Your Zodiac Sign
When summer descends on our world, you know it's time to start planning the trip of a lifetime. Although imagery of expensive resorts on tropical islands and five-star hotels with panoramic views of the Eiffel Tower may be emblazoned in your mind, you don't need to dole out all those extra dollars on an international flight to make that trip happen. You'll find all the exoticism you need right here in the United States, especially when you consider what U.S. city you need to visit this summer, based on your zodiac sign. From West Coast to East Coast and the Deep South to the Midwest, this country is brimming with a whole spectrum of culture. It's undeniable how much variety and history it offers, and it's amazing for containing such an amalgam of travel opportunities.
The amount of impressive cities sitting in the U.S. may be overwhelming while you're narrowing down your destination, so understanding what makes your zodiac sign tick can help you decide where to go. These cities are each one large playground, and they're built especially for certain personalities. If you need help in deciphering which city was made for you, look no further than what your zodiac sign loves most in a vacation.
Aries: New York, New York
The dog-eat-dog, fast-paced hustle and bustle of New York City is music to an Aries' ears. Competitive at heart and hungry by nature, an Aries comes on top here while so many fall behind. Here, they can feel both inspired by the restless energy and calmed by the quiet spaces found in-between.
Taurus: Seattle, Washington
Seattle encompasses everything a Gaia-loving Taurus could ever hope for. It provides an endless wonderland of Pacific Northwest natural beauty with a metropolitan haven smacked right down in the middle. You know a Taurus wants to go shopping right after they go hiking.
Gemini: Los Angeles, California
Los Angeles is a city of dreamers and social butterflies that emanates an all-around love for life. Maybe it's the endless sunshine, perhaps it's the Hollywood flare, but Geminis are meant to be here. A city so appreciative of those who escape from reality by wearing a new hat was made for this two-sided air sign.
Cancer: Boston, Massachusetts
There's no modern metropolis in the U.S. that's more cozy than Boston. Every establishment — from the local pub to the trendy coffee shop — is radiating with homespun energy. Here, a Cancer will find the warm and familiar vibe they're looking for
Leo: Miami, Florida
Miami is the winning combination of passion, sexiness, drama, and glitter that makes a Leo tick. Here, they can feel like a shining star on a happening beach-front street full of dance clubs and exotic restaurants. Naturally, a Leo loves to party their heart out. In Miami, that'll be no problem.
Virgo: Chicago, Illinois
Meticulous and hard-working Virgo will adore the vibes that Chicago has to offer. Being a metropolitan gem in the middle of the signature friendly Midwest, they'll be able to go after their goals and feel welcomed in their natural desire to help others.
Libra: San Francisco, California
It's the subjective opinion of many that San Francisco is potentially the most architecturally beautiful city in the U.S., making it a magnet for aesthetically gifted Libras. Not only is this city easy on the eyes, it's brimming with artistic and innovative opportunities.
Scorpio: New Orleans, Louisiana
A Scorpio loves nothing more than a deep, dark mystery. What better a U.S. city to find that is there than New Orleans? Here, they can feel enchanted by Cajun history, have a wild and passionate night out on Bourbon street, and feel amazed by all the intricacies found in its shadows.
Sagittarius: Austin, Texas
Austin combines the wild, extroverted, and stimulating energy of Texas with a dreamscape of artistic and creative wonders. Here, a sociable and restless Sagittarius will be able to embark on all their fiery adventures, stepping from one fantasy into another.
Capricorn: Washington, D.C.
Competitive, ambitious, and strategic Capricorn will be amazed by the U.S. capital of Washington, D.C. The energy radiating from so much leadership, triumph, and diplomacy will motivate them to no end. Who knows? Maybe a visit will inspire a Capricorn to run for president.
Aquarius: Portland, Oregon
Portland, Oregon is a haven for every eccentric, visionary, and unique weirdo in the country. Here, an Aquarius can truly feel at home with every other humanitarian warrior in the U.S., or they'll at least experience every one of their kooky and wacky dreams come true.
Pisces: Honolulu, Hawaii
The beauty that exists within the dreamy subconscious of a Pisces will captivate all who are lucky enough to see it. The only thing that potentially has more beauty is Honolulu. Here, a Pisces can fill their mind up with fantasies and wonders, exploring every cave, waterfall, and secret beach this island-city has to offer.