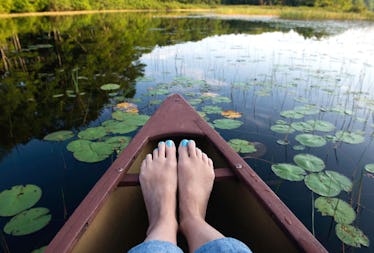 The Type Of Outdoor Adventure You Should Have This Summer, According To Your Zodiac Sign
It's during summer that the outdoors begin calling your name, begging you to take part in all the beauty. It's undeniable that a dose of sunshine, some fresh air, and the feel of the natural world all around you can do wonders for improving your mood. After waiting through so many long and cold months, you're probably itching to get out there and enjoy the outside world as often as you can. Knowing the outdoor adventure you should have this summer, according to your zodiac sign, will help you make sure you get the most out of the season.
When you think of how one can enjoy the outdoors, countless ideas probably run through your head. You could delve deep into the wilderness by leaving civilization behind and going on a hike. You can go to your local farmer's market and spend the day eating fruit and shopping for honey. You could even just have a barbecue in your backyard and invite your whole crew over for hot dogs. The options are truly endless, but some will probably satisfy your craving for mother nature more than others. If you need help knowing what those are, your zodiac sign might have all the right answers.
Aries: Slip N' Sliding With Friends
Always wanting to maintain a rush of excitement, an Aries would love having all their friends over to play on a slip n' slide in their backyard. It gets their heart pumping, gives everyone a good laugh, and makes them nostalgic for carefree childhood days. What's not to love?
Taurus: A Barbecue At The Park
A Taurus will always stand by the belief that a hot summer day calls for a barbecue with their favorite people. Just thinking about charred hot dogs, juicy burgers, some chips n' dip, and some refreshing beer makes their mouth water.
Gemini: A Boat Ride With Friends
An ideal summer day for a Gemini would involve a boat-ride (maybe even a yacht ride if they're feeling fancy) with all their friends. Partying it up, enjoying each other's company, and feeling the sea breeze on their face would totally be their thing.
Cancer: A Family Bonfire
An intimate bonfire with a summer sunset painting the sky orange and pink would make a Cancer swoon. Of course, it would mean nothing if their family and close friends weren't there.
Leo: Going To The Beach
There's nothing more perfect for a Leo to do in the summer than go to the beach. There are loads of people there, opportunities for beautiful Insta photos, an entire ocean to explore, and they can go home with sun-kissed skin as a souvenir.
Virgo: Yoga & Working Out In Nature
A Virgo loves taking care of their mind and body. This is why a serene summer morning spent practicing yoga or going for a jog would definitely fill their heart. Being surrounded by trees, flowers, and herbs while healing their soul just makes it so much better.
Libra: Shopping At An Outdoor Market
There's nothing that makes a Libra's heart tick more than shopping and immersing themselves in beautiful things. Walking around an outdoor summer market would be the perfect afternoon for a Libra. Getting to spend time in the sun and bring cute things home? Say no more.
Scorpio: Night Swimming In A Pool
A Scorpio loves a combination of darkness, mystery, and sexiness. This is why going for a dip in the pool on a warm night would be the ultimate Scorpio summer fantasy. Invite a few of their trusted people over plus a few cuties and they're game.
Sagittarius: Hiking Or Snorkeling
A Sagittarius takes summertime seriously. It's when they can fully embrace their wild heart and go on as many adventures as possible. An intense nature hike or an enchanting snorkeling experience would definitely make their world go round.
Capricorn: Working Outdoors On A Fun Project
A Capricorn is always ambitious, tedious, and hardworking. They love their summer months to be just as productive as they are exciting. Starting a project like building a treehouse, painting on the beach, or planting flowers allows them to feel proud of their time out in the sun.
Aquarius: Attending A Music Festival
Music truly makes community-oriented and visionary Aquarius flutter with joy. They're probably already planning to go to several different musical events over the course of the summer months and they're not sorry for it one bit.
Pisces: Picking Wildflowers & Herbs
Sentimental and spiritual Pisces loves connecting with the present moment. There's no better time than summer to do that. Driving out to a field of wildflowers or herbs and picking a bunch to take home would be so gratifying for their soul.