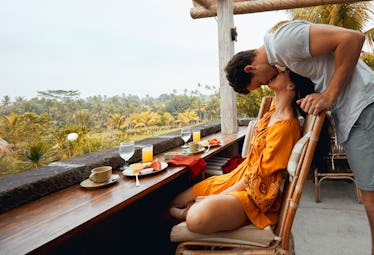 This Is Where You & Bae Should Vacation This Summer, Based On Your Sign
So, you and bae have decided to treat yourselves to a romantic couples' trip this summer. And why shouldn't you? A vacation offers the perfect opportunity for you and your partner to learn more about each other, make lasting memories, and of course, take some Instagram-worthy pics that are bound to inspire envy from all of your followers. But would you be better off planning an indulgent getaway at a luxe resort, or a no-frills weekend in nature? Fret not — because your Zodiac sign can help you figure out the vacation you should take this summer.
Your sign offers a lot of insight into your personality, as well as your relationship. And when planning a trip with your boo, you should be taking all of these personality traits into account. After all, the only way to ensure that your getaway is as fulfilling as possible is to tailor it to your unique needs, preferences, and desires. For example, while free-spirited Gemini may crave novelty on their vacation, with a wide variety of different experiences, Cancer couldn't be happier than when they're in the safety and comfort of a familiar environment.
From restorative meditation retreats to adrenaline-packed adventures and lavish resort stays, here's the perfect vacation for you and your partner, based on your sign.