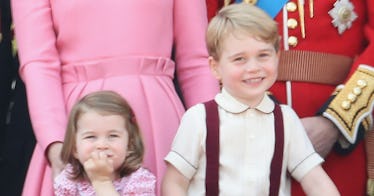 Twitter Can't Deal With How Grown George & Charlotte Look At Prince George's Christening
Chris Jackson/Getty Images
Prince Louis of Cambridge was christened on Monday, July 9, and it was a peaceful royal affair. Prince Charles and Camilla Parker Bowles, Duke and Duchess of Cornwall; Prince William and Kate Middleton, Duke and Duchess of Cambridge; Prince Harry and Meghan Markle, Duke and Duchess of Sussex; and all of little Prince Louis' godparents were in attendance at the christening (the Queen and Prince Philip, Duke of Edinburgh, weren't able to attend). Tweets about Prince George and Princess Charlotte at Prince Louis' christening show how much all three of these little kiddos are loved by the internet.
The family walked into the Royal Chapel at St. James's palace in the order of succession (they have to do this every time they walk into any official appearance as a group), so Prince Charles and Camilla led the way as Prince William followed hand-in-hand with Prince George and Princess Charlotte of Cambridge, and Kate carrying baby Louis right behind them. Behind her were newlyweds Harry and Meghan.
Kensington Palace announced who was asked to be Prince Louis' godparents in a statement released a few hours before the christening on Monday, July 9. The statement read, "The Duke and Duchess of Cambridge have asked the following people to be godparents to Prince Louis, all of whom are friends or family of Their Royal Highnesses." Then the statement listed the names of Louis' godparents: Nicholas van Cutsem, Guy Pelly, Harry Aubrey-Fletcher, Lady Laura Meade, Hannah Gillingham, and Lucy Middleton. The group is a combination of Will and Kate's close friends and extended family members.
Here's a video of the royal family ~strutting their stuff~ into the royal chapel.
Fans of the family can't believe how grown Princess Charlotte and Prince George look. Weren't they also babies just, like, two weeks ago?!
Prince George and Princess Charlotte have a bunch of godparents themselves. Prince George has seven, Princess Charlotte has five, and now, Prince Louis has six.
Today also #blessed us with the first photos of Will and Kate's family of five altogether for the first time. Just look at this precious little fam!
Anotha one.
Prince Harry and Meghan Markle were also there, though I don't think Meghan got the blue memo.
Still slaying in those earth tones, though, Meghan.
Some people thought it was a possibility that Harry and Meghan would be asked to be two of Prince Louis' godparents, but People reports that was not likely to happen because they're already his aunt and uncle — Will and Kate like to save the role of godparents for people more distant familial ties. British bookmakers Ladbrokes' Jessica Bridge told People, "As with George and Charlotte, [William and Kate] chose close and trusted friends and aides, rather than immediate family members, and the odds suggest that will be the same with little Prince Louis." It's a completely fair decision, one I'm sure Meghan and Harry will likely mimic if/when they start to have kids of their own.
Kensington Palace's announcement about the christening on July 9 detailed the names of the people asked to be Louis' godparents, and it also listed the names of the family members set to attend. "The following guests will today attend the christening of Prince Louis at The Chapel Royal, St James's Palace," the statement said. "The Prince of Wales and The Duchess of Cornwall, The Duke and Duchess of Sussex, Mr. and Mrs. Michael Middleton, Mr. and Mrs. James Matthews, Mr. James Middleton, and the godparents of Prince Louis and their spouses." Queen Elizabeth and Prince Philip's names were noticeably absent, but the reason the queen didn't attend Prince Louis' christening is understandable: She apparently just had too much work to do. According to the Mirror, Queen Elizabeth has a busy work week ahead and spent the earlier hours of July 9 traveling back to London from Norfolk for said work commitments. Her schedule unfortunately didn't allow for any time to attend the christening.
But it's OK, let's just admire the new photos of little Prince Louis and forget all about the queen's absence.
Guys.
I want to frame this in the foyer of my future home and I'm not even British.
Look up the word "glowing" in the dictionary and this photo comes up.
Prince George, Princess Charlotte, and Prince Louis are just about the cutest royal babies I ever did see.