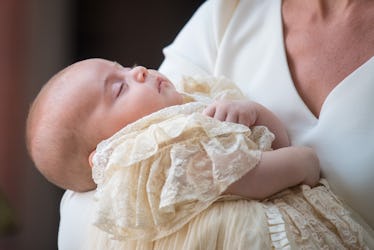 Here's The Reason Why The Queen Skipped Prince Louis' Christening & It's Understandable
WPA Pool/Getty Images Entertainment/Getty Images
The moment we've all been waiting for is finally here. Today is Prince Louis of Cambridge's christening, which means we finally got to see the Duke and Duchess of Cambridge with all three of their children together! Are you guys as excited as I am for this moment? I just know it's so MAJOR! I mean, Prince George and Princess Charlotte of Cambridge always ham it up for the cameras, so I love any chance to see them be all cutesy with their new little bro. But why wasn't the Queen at Prince Louis' christening? Is there some royal drama I need to know about? Because if so, somebody better fill me in ASAP!
The announcement that the Queen would not be attending the event was actually dropped the morning before the ceremony, which took place at the Chapel Royal of St James's Palace in central London.
"The following guests will today attend the christening of Prince Louis at The Chapel Royal, St James's Palace," a statement explained. "The Prince of Wales and The Duchess of Cornwall, The Duke and Duchess of Sussex, Mr. and Mrs. Michael Middleton, Mr. and Mrs. James Matthews, Mr. James Middleton, and the godparents of Prince Louis and their spouses."
I don't see any Queens on that list, do you? So, the 11-week-old royal was joined by his parents' close friends and relatives, but not by his great-grandmother or her husband Prince Philip? WHAT IS THE DEAL?
According to the Mirror, the Queen's absence had nothing to do with health issues, or with a major scandal, or with her, say, liking Prince Harry better. It was simply a matter of scheduling conflicts.
The Queen reportedly spent the weekend in Sandringham, Norfolk, is traveling back to London today, and has a busy few days ahead. She will honor the 100th birthday of the Royal Air Force at a Westminster Abbey service on Tuesday, and she's reportedly planning to meet with Donald Trump at Windsor Castle on Friday. TBH, I totally don't blame her for skipping out on this thing. I mean, a girl needs a day to herself every now and again, am I right? Plus, you've seen one royal christening, you've seen them all, you know what I'm saying?
Seriously, though, according to People, the Queen's decision not to attend little Louis' christening was reportedly mutually agreed upon with William and Kate "some time ago" and everyone in the family is "comfortable with the arrangement."
So who did show up? In addition to Prince Charles and Camilla, Prince Harry and Meghan Markle, Duke and Duchess of Sussex, were there, Kate's parents, and both her brother and sister were there, and all six of Prince Louis' godparents were in attendance as well, including Kate's cousin Lucy Middleton, Nicholas van Cutsem, Harry Aubrey-Fletcher, Lady Laura Meade, Mrs. Robert Carter, and Guy Pelly, a childhood friend of William's. Of course, Prince Louis' big sibs, Prince George and Princess Charlotte, were both there as well.
Louis wore a handmade replica of the Royal Christening Robe for the occasion, and the Archbishop of Canterbury, Justin Welby, tweeted beforehand that he was honored to be conducting the service.
"I'm delighted and privileged to be christening Prince Louis today," he wrote. "A precious child made in God's image, just as we all are. Please join me in praying for him and his family on this special day."
After the service, William and Kate hosted a tea party in Clarence House, where they served cake from their wedding, which took place back in 2011! The cake — an eight-tier confection made from 17 individual fruit cakes and decorated with cream and white icing and 900 iced flowers and leaves — had been saved since their nuptials, and was previously dished out at the christenings of both Prince George and Princess Charlotte.
Would I turn down a piece of seven-year-old royal cake?
Eh, probably not.