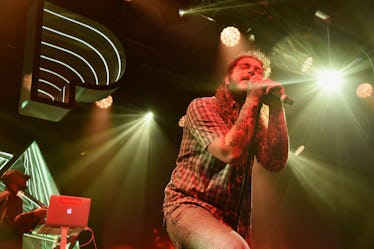 This Was Spotify's Most Played Song On New Year's Eve
Theo Wargo/Getty Images Entertainment/Getty Images
New Year's Eve is a big day for celebrations. Whether you get all dressed up for a fancy party or if you throw on your coziest pajamas for an all-night slumber party with your besties, there's one thing that every NYE get-together usually has in common: music. Pairing the last day of the year with the perfect soundtrack is always a good way to ring in the new year. If you're interested to know what people were listening to as they bid adieu to 2017, then look no further than the top Spotify song that was streamed on New Year's Eve.
As New Year's Eve celebrations raged on, Spotify saw it become one of its busiest days for streaming music. With partiers all over the globe playing their favorite tunes to set the celebratory NYE tone, one song proved to be the number one choice worldwide, according to Spotify. With over 617 million streams, Post Malone's "rockstar" was the number one song streamed on Spotify on New Year's Eve.
The song "rockstar" proved to be the unanimous favorite track on every playlist for the night, since it was the number one song both globally and in the United States.
Spotify compiled two lists of the top ten most streamed songs for Dec. 31, 2017. The first list was based on global data, while the second list was compiled from the U.S. streaming. Just behind "rockstar" on the global list was "Havana" by Camila Cabello. Dua Lipo's "New Rules" rounded out the top-three global tracks — sounds like a jammin' night to me.
Back stateside, the U.S. top-three streamed tracks were "rockstar," "No Limit" by G-Eazy, and Post Malone's "I Fall Apart." Post Malone proved to be an NYE favorite in the U.S., because in addition to his two tracks as the top, he also rounded out the U.S. top-ten tracks with his song, "Candy Paint."
If you want to update your 2018 playlists according to this new NYE streaming information, you can check out both lists in full here.
While the U.S. and global music tracks agreed on who took the top spot, there were some songs that only made one list and not the other — different strokes, right?
"Bartier Cardi (feat. 21 Savage)" by Cardi B, for example, only found itself on the U.S. list at number four. Maybe the rest of the world hasn't been watching this hilarious Cardi B Tonight Show Starring Jimmy Fallon interview on a loop (watch, and thank me later). Another U.S. only top-ten track was "Him & I (with Halsey)" by G-Eazy, which was the number six most-streamed song in the U.S. on New Year's Eve.
One other interesting streaming trend had to deal with Spotify's 2017 most popular artist, Ed Sheeran. Sheeran didn't get the stream love in the U.S., but he did make the global top-ten New Year's Eve list twice. His tracks, "Shape of You" and "Perfect" were the number four and number ten most streamed songs, respectively. I guess my streaming of the "Perfect" duet by Ed Sheeran and Beyoncé on repeat wasn't enough to sway the U.S. stats...
Just because 2017 is over doesn't mean that you can't find a new favorite from this group of tracks and put it into your regular rotation in 2018. So, whether you rocked out all New Year's Eve long or only cranked up "Auld Lang Syne" at midnight, you can now perfect your Spotify playlists for the new year thanks to these top-ten most-streamed New Year's Eve lists. Happy streaming!
Check out the entire Gen Why series and other videos on Facebook and the Bustle app across Apple TV, Roku, and Amazon Fire TV.