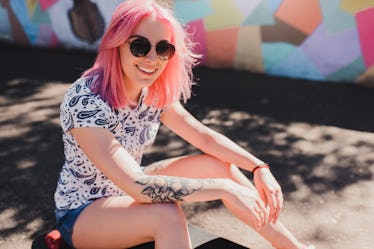 The Subtle Disney Tattoo You Should Get, Based On Your Favorite Movie
Disney movies provide so much inspiration for tattoo designs. Just like tattoos, choosing your favorite Disney movie says so much about your personality. If your go-to flick is The Little Mermaid, it's obvious you were mer-made for the summertime and chilling "under the sea." For any Lion King fans out there, I get that you live by the no worries motto, "hakuna matata." A tat is a perfect way to show people who you are, and subtle Disney tattoos tell an entire story.
You don't need a big tattoo to get the reference, either. It's your favorite movie, after all, so you could really spot it a mile away. That's why these seven subtle tattoos are too cute for words, because they are made for the ultimate fan. You've already picked out your favorite Disney movie — which is the hardest part — so now showcase all of that love with some ink.
As a fellow Disney lover, I'm constantly being asked what my favorite movie is. If you're in the same boat, make it easier on yourself by having a little homage on your skin. Rock your tat proudly, and no explanation is needed. Now, that's true Disney magic.