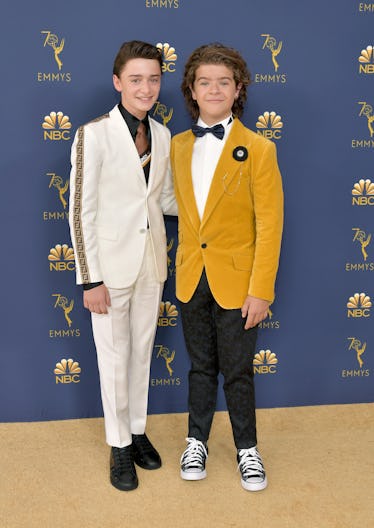 The Cast Of 'Stranger Things' Turned The Emmy Awards Red Carpet Upside Down
Neilson Barnard/Getty Images Entertainment/Getty Images
Another awards show, another smattering of jaw-droppingly good looks! And to start off what will undoubtedly be an entire night of drool-worthy fashion are some of your favorite sci-fi stars: The Stranger Things Cast at the 2018 Emmy Awards looks expectedly out of this world, with each member scoring an eleven out of ten on their outfit choice. You saw them slay on last year's Emmy Awards red carpet and although they didn't win any of the three categories they were nominated for then, this year could be a whole different story.
The show is nominated for four awards tonight: Drama Series, Casting for a Drama Series, Supporting Actress in a Drama Series (Millie Bobby Brown) and Supporting Actor in a Drama Series (Dabid Harbour). I hope they'll take at least one much deserved golden statue home but even if they leave empty-handed they've already proven they'll shine.
First up is Gaten Matarazzo, who plays the much-loved character of Dustin on the show. Sporting a mustard yellow velvet jacket, a black and gold brooch, and a bow tie by Dolce & Gabbana, he looks every part the young Hollywood starlet he is. Oh, and his long, perfectly side swept hair? Watch out Steve, he's coming for your look.
Next up is Noah Schnapp AKA Will Byers, the show's pint-sized ball of courage whose life is literally turned upside down when he becomes trapped in a parallel universe inhabited by terrifying creatures. Schnapp stepped onto the carpet looking scary good. Like, Demogorgon-scary good. But when you're wearing a Fendi suit and tie and have hair that would make Elvis himself jealous it would be hard not to.
Natalia Dyer always looks stunning, but tonight she's somehow reached even higher peak gorgeousness. Wearing a gold Dolce & Gabbana dress and blindingly glittery accessories, the actress, who plays Nancy Wheeler, looks like a walking Emmy Award. A brand new glitter nail polish named "Venture to the Venue" from Essie finishes off her look.
Oh, Steve Wheeler (Joe Keery), your hair has always been epic on the show, but you've brought it to a whole other level tonight. Literally — I think it deserves its own zip code. (Do the kids still say that?) To accompany his Greaser hair (Danny Zuko would approve), the actor wore a navy blue suit, white button-up, and black bowtie. It's simple and clean because let's be real—the hair is all anyone's looking at, anyways.
While I will always swoon for Steve, Dacre Montgomery, who plays Billy Hargrove, stepped out onto the red carpet in a white bowtie, floral lapel pin, and fresh haircut, and I cannot deal.
Finn Wolfhard (Mike Wheeler) kept it super classic in a black and white tux but to add a little flair he opted for a velvet jacket. You can't go wrong with the most iconic color combo on earth!
OK. Hold up. Caleb McLaughlin, who plays Lucas Sinclair, arrived in an all-white Louis Vuitton suit that almost looks like gently crinkled paper and can you deal?!
Sadie Sink (Max Mayfield) also opted for an all-white look in a high-low lace dress boasting flower-studded cap sleeves. Her hair was pulled into a low chignon and her pinkish red lips looked fire with her red locks.
And finally, there's Millie Bobby Brown who you might know as Eleven, the leading (and very badass) lady of the show. She arrived in a dress that's shaped liked a cupcake and is just as sweet as one, too. Featuring a floral motif and Bardot styles sleeves, it's a total dream, just like Millie.
Now who's ready to make some Eggos for the main event?