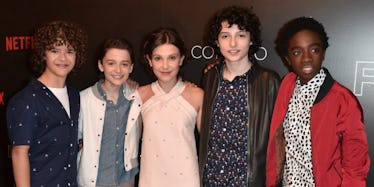 The 'Stranger Things' Kids At The Emmys Are The Highlight Of The Show
Getty Images/ Frazer Harrison
Stranger Things on Netflix is easily one of the biggest shows right now. Its first season captivated viewers with its plot twists, bizarre fear of the upside-down, and the mysterious Eleven. (And RIP, Barb.) Considering the bulk of the cast is under the age of 15, the show has produced a ton of buzz and can't be stopped. Not only are these "kids" (I'm using this term loosely, I know 25-year-olds who are less mature) amazingly talented, but they hold themselves with tons of poise. And the Stranger Things kids at the Emmys were definitely the squad to watch in 2017.
Before the Primetime Emmy Awards got underway, the Creative Arts Emmy Awards (aka the other two-thirds of the awards show) aired on FXX Saturday, Sept. 16. This part of the awards ceremony is a big deal because it is considered the tell-all for how the voting will go. Stranger Things took home a whopping 11 Creative Arts Emmy wins. And though praise for the series is everywhere, the fame hasn't seemed to affect the young cast. Millie Bobby Brown, who plays Eleven on the show, spoke with the New York Times about her first Emmys nomination. When asked how she reacted to learning about her nomination for supporting actress in a drama, she said,
I'm so happy for the show. The show completely deserves it. The show is 10 times more amazing than my nominations.
OK, that's amazingly eloquent. As far as celebrating, Brown said,
I'm working tonight on my new movie, Godzilla [Godzilla: King of the Monsters]. So I'm going to go to work. Just doing my job makes me so happy. I'm definitely going to get a Starbucks right now, that's usually my celebratory drink. And then probably do some schoolwork. [Laughs] So it's going to be a fun day.
I'm going to guess her Starbucks' drink of choice is either a mocha frappuccino or caramel macchiato. Starbucks for everyone! The cast seems to get along amazingly as well. According to Brown, they're all like "brothers and sisters":
I'm home-schooled, but being on set with the boys [her Stranger Things co-stars] is like a school in itself. We argue, we're like brothers and sister. We laugh. It's a bunch of fun kids.
Basically, the coolest kids around. If you're wondering about Season 2 of Stranger Things, it's going to be a good one.
It's 10 times better than the last season. You guys are going to love it. It's everything the fans want, and what they're not expecting. https://www.youtube.com/watch?v=vgS2L7WPIO4
The Season 2 trailer gives a huge sneak peek into the fate of the characters. Will is still very much connected to the upside-down and viewers have been assured "nothing's gonna go back to the way it was." There's no going back, just moving forward and getting crazier than ever. Plus, it looks like Eleven is definitely returning.
Season 2 will be released on Netflix Friday, Oct. 27. Looks like we all have plans for Halloween. In the meantime, let's celebrate the TK TK Emmy wins of the cast of Stranger Things. You kids rocked it.
Here they are on the carpet looking so, so cute (and even sporting a few new looks!):
Check out the entire Gen Why series and other videos on Facebook and the Bustle app across Apple TV, Roku, and Amazon Fire TV.