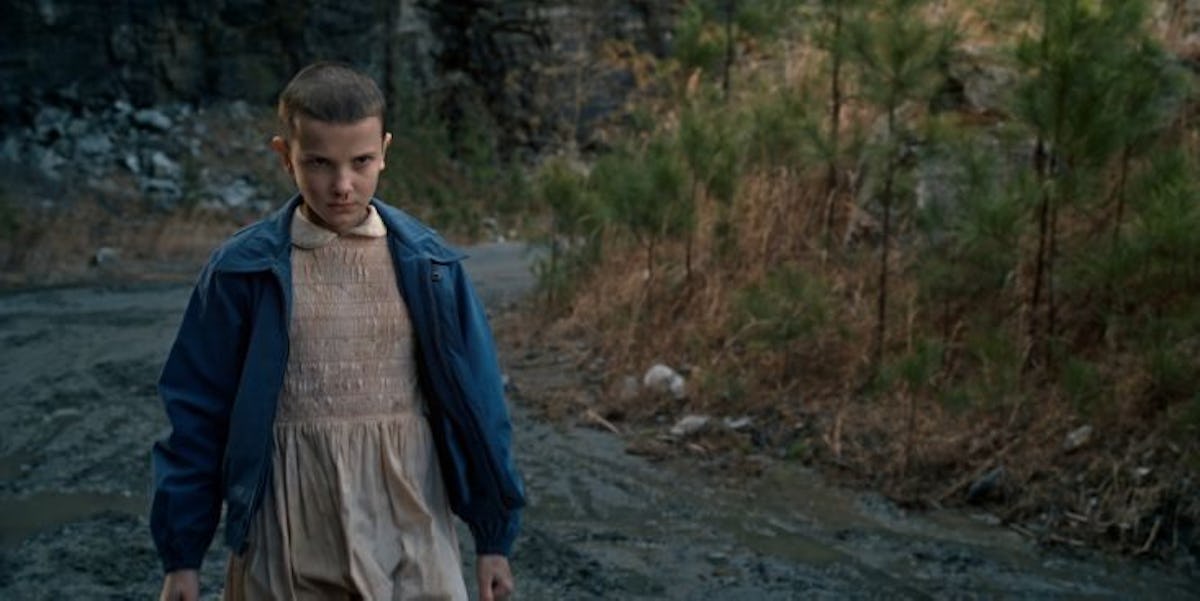 'Stranger Things' Won A Ton Of Awards This Week & Here's What It Means For The Emmys
Netflix
This past weekend was the Creative Arts Emmy Awards. Considered the "other" two-thirds of the Primetime Emmy Awards, it precedes the main telecast and can be considered a bellwether for the way voting will go. With Netflix coming away with 11 Stranger Things Creative Arts Emmy wins this past weekend, it looks like the streaming service will walk away with Emmy gold on Sunday.
Netflix was one of the first streaming services to break into the traditionally broadcast based awards show, back in 2013 with House of Cards. Since then, their share of the nominations has grown exponentially. This year, it received 93 nominations over all, second only to HBO, which landed 110 across three nights of statuette hand outs.
With the Creative Arts Emmys now finished (and an edited down version set to air this coming Saturday on FXX, the night before the Emmys on CBS), we can see how the voting is trending, and right now it looks very good for Netflix and Stranger Things chances to take home gold on Sunday's broadcast. Netflix took home 16 Emmys over the course of the weekend, five of which were for the Duffer Brothers' breakout series. Those wins included some bellwether categories, including Casting For a Drama Series.
The "Casting For a Drama Series" award is considered a harbinger of a possible Best Drama/Comedy Series win. In the last two years, the show that won for casting (Game of Thrones) then took top prize for Best Series in the main telecast. Part of the drama this year in the Best Drama categories, especially the ones on the Primetime special, is that Game of Thrones is sitting this year out -- the premiere on July 16th was three days after the nominations were announced -- leaving the Drama throne open in multiple categories for new shows to swoop in.
Stranger Things is clearly hoping to take advantage. They also carried the day in such categories as Outstanding Original Main Title Theme Music and Outstanding Main Title Design, both of which were won by Game of Thrones in their first season.
One place they did lose: in the Guest Actress category. Shannon Purser had been nominated in this category for her character Barb -- who was less a character than a trope, and one that was one of the show's most retro moments -- when they killed her off as a symbol for Nancy losing her virginity. (And therefore no longer needing female friendship or some such.) Her nomination was seen as the Emmys reacting to the internet outrage of the character's treatment in the 21st century, so it wasn't that big a surprise she lost to Alexis Bledel of The Handmaid's Tale.
As for the major awards, Stranger Things still has on the table for this coming Sunday, we have the aforementioned Outstanding Drama series, as well as two Supporting nominations. David Habour is nominated for Best Supporting Actor for his turn as Police Chief Jim Hopper, and Millie Bobbie Brown is nominated for Best Supporting Actress for her rendition of Eleven.
If Brown wins in her category, she will be the youngest winner ever in that category. The current record is held by Roxanne Zal who was 14 when she won for There's Something About Amelia. (Keisha Knight Pulliam retains the record for the youngest nominee ever, she was 6 when she was nominated for The Cosby Show.)
It is possible that Stranger Things could lose both the Supporting categories and still win top prize -- Game of Thrones has done that too, most recently as last year, when they filled up both Supporting categories with nominees, who then split the vote, causing the wins to go to other shows.
The Primetime Emmys air this Sunday, Sept. 17, at 8 p.m. on CBS.