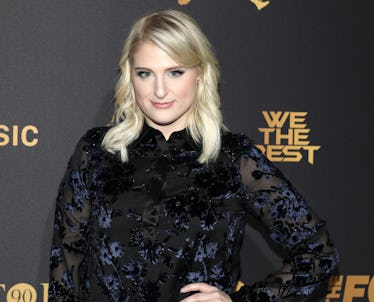 The Story Behind Meghan Trainor & Daryl Sabara's Relationship Is So Cute
Jerritt Clark/Getty Images Entertainment/Getty Images
Meghan Trainor is low-key one of the coolest singers. She's empowering, badass, and makes incredible music. She also spilled one more detail about her life that has fans gushing — her recent engagement to Daryl Sabara. On Dec. 22, the "All About That Bass" singer announced that the former Spy Kids star decided to put a ring on it. Of course, he popped the question in the most heart-warming way — under a tunnel of Christmas lights. The story behind Meghan Trainor and Daryl Sabara's relationship will make you fall even more in love with the young couple.
Trainor took to Instagram to announce the big engagement news with an adorable video. Sabara took Trainor to look at Christmas lights. While under a giant blinking light tunnel, he got down on one knee to propose.
The video will seriously melt your heart. A physically excited Trainor looked gorgeous in a chic black coat that she wore open to show off her white sweater underneath. She got emotional, teary-eyed, and looked genuinely shocked by the proposal. The couple hugged and kissed and then were met by their family and friends. Seriously, the sweetest. Trainor captioned the photo,
I SAID YESSSS!!!! For my 24th birthday, the love of my life @darylsabara made all of my dreams come true. He proposed to me under a tunnel of beautiful Christmas lights and surprised me with my family and friends. I'm still in shock. I've never been this happy! Thank you Daryl, my family and friends for making me feel like a real princess
Their dating story started about a year and a half ago. Trainor and Sabara were rumored to have started dating during the summer of 2016, but Trainor confirmed all dating rumors on Oct. 12, 2016 when she posted a photo of the two holding hands at the airport heading to Spain.
Sabara is best known for his role as Juni Cortez in the Spy Kids franchise. However, he's made it very apparent that besides having some serious acting chops, he also makes an amazing and loving fiancé. According to E! News, the two were set up by their mutual friend Chloë Grace Moretz. Apparently, there was chemistry at first sight. Trainor told Cosmopolitan in May,
We went on a double date — bowling and karaoke. He kissed me at the bowling alley. I told my security to step outside 'cause I didn't want to be watched. LOL. He was the best kisser ever. I know I'm really good at kissing, but I was shocked when he was.
While that sounds steamy, it gets better. In April, Trainor also told Cosmopolitan that she, "never really felt sexy with guys before," but her relationship with Sabara is different. "No one expressed how they liked my body out loud in the bedroom until I met Daryl. He is obsessed with it — every inch. And that has improved my confidence more than even '[All About That] Bass' did. He's a champion, so we're in heaven."
The two seem so, so into each other. On July 2, for their one year anniversary, Sabara posted a video of Trainor singing in her dressing room with this sweet message,
Took this video at the beginning of your tour. From the moment I met you I was mesmerized by everything you said and everything you do.You are the greatest person I know, and I'm so lucky to call you my best friend. I will love you forever and for always. You are my whole world.Thank you for the most amazing year. Happy Anniversary @meghan_trainor
Trainor and Sabara obviously have a lot of love for each other. A few days after their engagement announcement, Trainor took to Instagram to share a few of her favorite photos of the two. The pictures included the couple in matching sweaters, smiling, and looking genuinely happy together. She said in the caption,
I'm so happy it's you @darylsabara I knew it from the moment I met you.
I literally can't with these two, they are so sweet. I'm so excited to see engagement photos, hear wedding planning details, and see what the future holds for these lovebirds.
Check out the entire Gen Why series and other videos on Facebook and the Bustle app across Apple TV, Roku, and Amazon Fire TV.