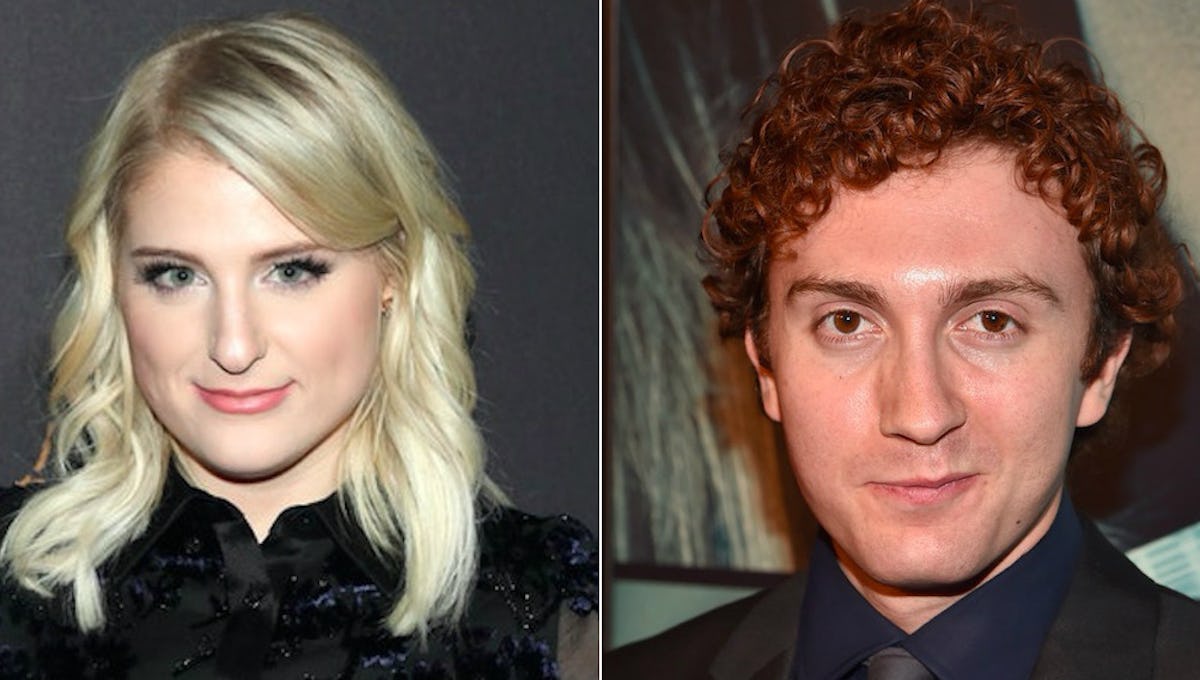 Meghan Trainor Is Engaged To Juni From 'Spy Kids,' So Yes, We're Getting Old
JERRITT CLARK/ Alberto E. Rodriguez/ GETTY IMAGES ENTERTAINMENT/GETTY IMAGES
There's something about the holidays that makes everything feel more romantic. Even with the stress of shopping, the occasional family feuds, and the bitter cold, the air just feels a little bit more lovey-dovey — maybe because we quite literally need to snuggle up to stay warm. Some people are really feeling the love, including "All About That Bass" singer, Meghan Trainor, who just announced her engagement. So who is Meghan Trainor engaged to? Early '00s kids are going to flip.
If you were into the Spy Kids movies as a kid, then you definitely remember Juni, the pesky-but-sweet younger brother of older sister Carmen. In the original movie, the two set out to save their former-spy parents after they are kidnapped by an evil kids' TV show star. I totally remember watching a couple of the movies in the theater and renting other ones from Blockbuster (OMG). So what happened to Carmen and Juni? Alexa Vega, who played Carmen, starred in the teen classic Sleepover, and is currently married to Carlos Pena Jr; the two welcomed a son in December of 2016 (See, I told you! Lovey-dovey!) Daryl Sabara, who played Juni, has been feeling the love, too — and just "made all of [Meghan Trainor's] dreams come true."
Sabara proposed to Trainor on Thursday, Dec. 21, under a tunnel of Christmas lights, according to People. Clearly a romantic, he also surprised Trainor with her friends and family at the end of said tunnel.
"I SAID YESSSS!!!!" Trainor wrote in an Instagram post. "For my 24th birthday, the love of my life @darylsabara made all of my dreams come true. He proposed to me under a tunnel of beautiful Christmas lights and surprised me with my family and friends."
Let's back up for a second and read that again, because when you do, it gets even more swoon-worthy; Dec. 21 just so happens to be one day before Trainor's birthday. So not only did the star celebrate turning 24, but she now has double the reason to mark the special date(s). Ugh, love is real, y'all.
Both Trainor and Sabara posted a video of the sweet proposal, which was captured by Trainor's brother and photographer/videographer, Ryan. Trainor thanked her brother for creating "this amazing video that I'm gonna watch over and over again" in her Instagram post.
Sabara's post reads, "Happy birthday to my soulmate. Thank you for changing my life forever and thank you for saying yes! You are the most beautiful fiance in the world. I love you @meghan_trainor."
Ryan also posted the video, writing "SO HAPPY FOR YOU BABY SIS! YOU TOO D$ PUMPED TO HAVE YOU IN THE FAM. LOVE WINS." I'm assuming D$ is a nickname, so clearly the Trainor family approves of Sabara.
Trainor followed up with an Instagram gallery of some mushy moments from the couple's relationship. The gallery includes sweet selfies, matching Christmas sweaters, and an adorable photo booth snap. Both Trainor and Sabara frequently post photos of and with each other, no special occasion necessary. I'm not tearing up, you are!
According to E! Online, the two celebrated their one-year anniversary in July 2017. The couple made their relationship public in Oct. 2016, and were introduced by mutual friend Chloë Grace Moretz. In April, Trainor told Cosmopolitan that she "never really felt sexy with guys before," but Sabara's love for her changed all of that. "No one expressed how they liked my body out loud in the bedroom until I met Daryl. He is obsessed with it — every inch. And that has improved my confidence more than even '[All About That] Bass' did. He's a champion, so we're in heaven."
Sigh. So are we.
Check out the entire Gen Why series and other videos on Facebook and the Bustle app across Apple TV, Roku, and Amazon Fire TV.