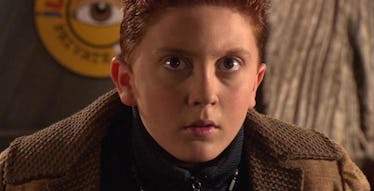 Juni From 'Spy Kids' Is All Grown Up... And Now He's Dating Meghan Trainor
Miramax Films
WOAH, WOAH, hold up. Slow down, rewind.
Meghan Trainor apparently has a new man in her life, and you'll never believe who it is.
I'm sure you remember the classic movie "Spy Kids" from 2001. (If you don't, then uhhh, please leave now?)
In the film, siblings Carmen and Juni become spies to save their parents from the bad guys. They play with all these high-tech gadgets and meet a bunch of creatures like the Thumb Thumbs and Fooglies.
Man...brings me right back to my childhood. Those were the days.
YEAH, the child actor -- Daryl Sabara -- was spotted holding hands with the 22-year-old singer.
Meghan pretty much confirmed the rumors when she Instagrammed a picture of the cuties heading off to Spain together. OMG?!?!
THAT'S NOT EVEN THE BEST PART.
Meghan also flaunted her new relationship all over Snapchat with a pic of her bae. LOOK AT THOSE FLIRTY STICKERS!!!
That's Juni. That's literally Juni from "Spy Kids."
AND NOW HE'S 24 YEARS OLD AND PLAYING WITH MEGHAN TRAINOR'S DOG. DA FUCK?
Are you still in shock? Because I am.
According to social media, it looks like Daryl even joined Meghan on tour.
She posted this selfie two weeks ago with the caption,
We did it! We survived an entire tour without canceling any shows! Thank you @darylsabara for being so amazing.
UMMMM, WOAH. Has Meghan been dating Juni for weeks? How did we all miss this?
It's crazy how much lil Jun has grown up...I seriously didn't even recognize him.
Damn. Well, congrats to the happy couple. I wonder if Meghan and Juni's date nights include drinking wine and watching "Spy Kids" on repeat.
Cute right? Eh, nvm, that sounds kind of weird.
Citations: Juni From "Spy Kids" Dating Meghan Trainor (Entertainment Tonight)