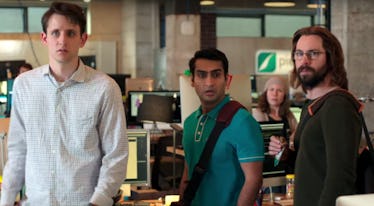 The 'Silicon Valley' Season 5 Trailer Is Here & Big Things Are Happening
HBO
Say goodbye to the Internet as you know it, because Silicon Valley is promising to reinvent it in its upcoming fifth season. HBO just dropped the first trailer for Silicon Valley Season 5, and it looks like Pied Piper crew is finally going to be making it big in the tech business... but of course, there are still going to be a lot of bumps along the road. Let's break down everything we can expect from the new season of Silicon Valley based on the new trailer, including its premiere date.
In case you forgot how the previous season of Silicon Valley ended in the six months since the finale, we left off with Richard Hendricks leading Pied Piper in a bold new technological venture: a decentralized Internet that he says will make the entire computer server business obsolete. We also saw the resurrection of Richard's longtime rival Gavin Belson, who promised to destroy Pied Piper after Richard turned down the reinstated Hooli CEO's offer to buy the company out, and bid farewell to Erlich Bachman, Pied Piper's former booster who was left to be perpetually high in a Tibetan opium den at the end of the season.
Though the Pied Piper team has always managed to somehow sabotage themselves out of finding success in Silicon Valley in the past, Season 5 holds the promise of Richard, Dinesh, Gilfoyle, and Jared finally developing their career-making tech idea. The newly released trailer for the season shows the group reaching new heights of success: Richard is set to address a large crowd, he is dressed in a tuxedo at a very fancy-looking event, and Pied Piper is expanding to hire fifty employees. But amid the newfound success, the trailer also reveals new issues: Gavin is back to trying to destroy Pied Piper, and Jian-Yang has kicked the guys out of their home now that Erlich is gone.
Check out the full Silicon Valley Season 5 trailer below:
Season 5 will be a monumental one for Silicon Valley, not only because Pied Piper may finally succeed in making a name for itself, but also because it will be the HBO comedy's first season without the character of Erlich Bachman. After Season 4 wrapped, HBO announced that the network came to a mutual decision with actor T.J. Miller that he would no longer appear on the show. It looks like that departure will result in some living problems for Richard, Dinesh, Gilfoyle, and Jared next season, with an unreceptive Jian-Yang taking over the group's house with previous homeowner Erlich officially gone.
There are some other things to keep your eye out for in the upcoming season, including Richard's further descent into darkness. At the end of Season 4, we saw a scary turn in the usually toothless and affable Richard, who lied to and implicated his friends in crimes the closer he seemed to come to success. Now that he is closer to making his dreams come true than ever, we might see even more of Richard's hidden ruthlessness manifest. Oh, and then there is also Mia, Dinesh's ex with extremely scary hacking abilities, whom he secretly turned into the FBI last season. When last we saw her, she was in jail, but told Dinesh she had a plan to find out who turned her in and get her revenge on them. Hmmm, sounds like Pied Piper may have more to worry about in Season 5 than this trailer makes it seem.
Silicon Valley fans will not have to wait much longer for the new season to start. Season 5 will premiere on Sunday, March 25 at 10:00 p.m. ET on HBO.