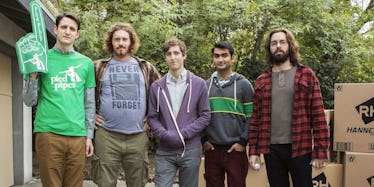 'Silicon Valley' Is Losing One Of Its Main Characters After 4 Seasons
HBO
Silicon Valley fans got some good news and some shocking bad news Thursday: the HBO comedy is renewed for a fifth season, but one of its most beloved characters won't appear in it.
After announcing the show's renewal, HBO revealed that they came to an agreement with T.J. Miller (who plays the self-involved homeowner Erlich Bachman) that the comedian would not return for the upcoming fifth season.
The producers of Silicon Valley and T.J. Miller have mutually agreed that T.J. will not return for season 5. In Erlich Bachman, T.J. has brought to life an unforgettable character, and while his presence on the show will be missed, we appreciate his contribution and look forward to future collaborations.
It's a sad an unexpected bit of news for Silicon Valley fans, given that Erlich has been a central character in the series for all four of its seasons so far. In the show, Erlich owns the live-in start-up incubator that houses all the rest of the main characters, as they come up with new apps and tech ideas that they hope will finally launch them to success.
Erlich quickly grew to become a fan favorite thanks to his extremely blunt manner of speech, stoner bro lifestyle, and frequent outbursts. Relive some of his best moments in the compilation video below.
Of course, this isn't too devastating of news for T.J. Miller, who has been able to use his success on the show to amp up his movie career. He's starring in The Emoji Movie this year and will then costar alongside Kristen Stewart in the thriller Underwater next year.
Along with that, he's also got two franchise films cooking: next year's Deadpool 2 and 2019's How To Train Your Dragon 3. He also is about to wrap up the first televised season of his out-of-this-world Comedy Central talk show, The Gorburger Show, at the end of the month.
Silicon Valley is currently airing its fourth season, which is scheduled to conclude on June 25 after another five episodes. It airs Sunday nights on HBO.
Citations: T.J. Miller exiting Silicon Valley (Entertainment Weekly)