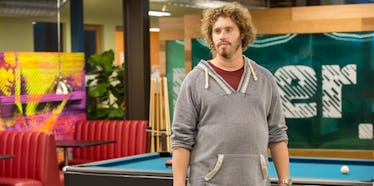 Erlich Bachman Said "Goodbye" To 'Silicon Valley' In The Most Typical Erlich Way
HBO
On tonight's season finale of Silicon Valley, fans said goodbye to fan-favorite character Erlich Bachman, played by comedian T.J. Miller.
Back in May, it was announced Miller, who's been a staple in the HBO comedy for the first four seasons, will leave the show.
After HBO announced the show's renewal, it paired the good news with the bad by announcing Miller's departure.
The producers of Silicon Valley and T.J. Miller have mutually agreed that T.J. will not return for season 5. In Erlich Bachman, T.J. has brought to life an unforgettable character, and while his presence on the show will be missed, we appreciate his contribution and look forward to future collaborations.
Although fans and other Silicon Valley stars were heartbroken over the loss of the brutally honest, self-absorbed Erlich, Miller seems ready to part ways. He revealed his vision for his character's departure to Entertainment Weekly.
I just think the best thing for this show is for this character to fade into the ether. Wouldn't that be interesting? Wouldn't that be unexpected
Well, we've finally got our answer to why Erlich Bachman won't return to the incubator, Hooli, and his band of techy brothers.
In Erlich's first scene of the finale, he is sitting in a monk monastery with Gavin Belson, dishing out expected one-liners. After revealing to Belson Hooli phones have been exploding, the two ditch the serenity, hop on donkeys, and Erlich ends up smoking a bong full of opium in a Tibetan tent.
Belson goes to save Jack Barker (who's being held hostage at a Chinese Hooli cell phone factory) and pays a man in the tent enough money for Erlich to "stay there for a while." A while, according to the tent owner, amounts to five years.
So, that's that. Elrich Bachman ends his reign as Silicon Valley's most hilarious character smoking opium in Asia for presumably the next five years, fading into the ether.
While we won't be seeing him on the show anymore, Miller himself answered the question that was on everyone's mind when he departure was announced: How do we even picture Silicon Valley without Erlich?
The 36-year-old comedian told Entertainment Weekly,
Some people... are saying, 'What exactly is this show if Erlich isn't on it?' I think maybe a more focused show that is using some of the barely tapped talents. You've got Josh Brener [who plays Big Head], a brilliant comedian. You've got Chris Diamantopolous [who plays Russ Hanneman], a brilliant talent. Most of all, you have Amanda Crew, this brilliant, flexible [actress], she's bizarre in her humor, and we haven't gotten to see a bunch of that. I love the idea of seeing more of that.
Silicon Valley Season 5 is set to air in 2018.