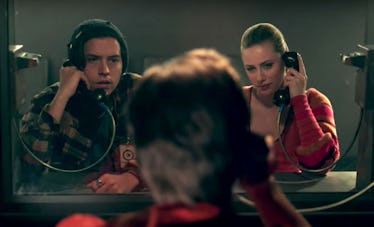 The 'Riverdale' Season 5 Trailer Is Here & It Addresses A Big Mystery Head On
The CW
Riverdale fans knew Season 5 was going to be wild, but the newly released trailer for the upcoming run of episodes teases way more ridiculous, unexpected twists than anyone could have predicted. With high school graduation, a major time jump, and a whole new killer mystery to untangle, Season 5 is sure to be one of the most important seasons ever... and one of the wildest. The Riverdale Season 5 trailer gave fans a first peek at all the drama.
After months of anticipation, The CW released the full trailer for Riverdale Season 5 on Wednesday, Dec. 9, just over a month before the new season will premiere on Jan. 20. Since Season 4 had to be cut short due to the coronavirus pandemic, the Season 5 trailer is all about wrapping up the unsolved mystery of the videotapes. Previously, the strange tapes showed masked figures performing disturbing crimes, and those will apparently ramp up to macabre murders in Season 5, as the Core Four have to figure out who's behind those masks. They even get a foreboding warning from imprisoned Stonewall Prep student Bret Weston Wallis that something massive is coming.
Aside from the videotapes mystery, the trailer also gives fans a peek at Riverdale High's senior prom, as Archie slow dances with Veronica and the whole group offers up a toast to their final days in high school. But it's not all fun, happy vibes — the trailer also shows Veronica tearfully saying, "Something happened between Betty and Archie," clearly referencing their secret make-out session from the end of Season 4.
Notably, the trailer does not include any scenes from the seven-year time jump that will be implemented in Episode 4, suggesting everything in the trailer is most likely from the first three episodes of Season 5. These episodes were meant to be the final episodes of Season 4 before production was cut short due to the coronavirus pandemic, and showrunner Roberto Aguirre-Sacasa has already revealed they will center on the prom, wrapping up the videotapes mystery, and high school graduation. Fans can expect the season to take a major turn in Episode 4, as the time jump will bring huge changes and a new murder mystery that has not yet been revealed.
Riverdale Season 5 will premiere Wednesday, Jan. 20, on The CW.