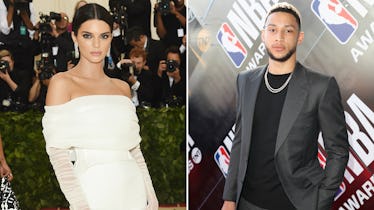 Here's Reportedly Why Kendall Jenner Is Keeping Her Relationship With Ben Simmons Secret
Jamie McCarthy/Joe Scarnici/Getty Images Entertainment/Getty Images
The Kardashians are not exactly what you'd call private people, but that doesn't mean they don't like their privacy. And of the more low-key family members, I'd say that Kendall Jenner *definitely* tries to keep her personal life on the down-low as much as possible, and honestly, I can't even blame her. As a successful model and reality star, Jenner's dating life is typically kept under wraps, but her growing relationship with NBA player Ben Simmons just can't be contained. The pair have been linked together for only a few months, but it seems like things are getting pretty serious — and Jenner is getting pretty protective over her relationship. But the reason Kendall Jenner keeps her relationship secret is actually really sweet, and after hearing why, it's also totally understandable.
According to People, Jenner has become "very protective" when it comes to Simmons, and a source said that Jenner despises all of the attention that her budding relationship brings upon her. "She's being very private about her relationship with Ben. Kendall's really different from her sisters in that sense," the source who claims to be close to Jenner said, adding, "She honestly doesn't want people talking about who she's dating and is very protective of her personal life."
Elite Daily reached out to Jenner's team for comment on the report, but did not hear back by the time of publication.
The source also explained that Jenner is frustrated by the "drama" with Simmons' ex, Tinashe, saying, "She hates the attention and it's been annoying that the drama with Tinashe has come up."
The drama in question is when Tinashe claimed that Ben Simmons was texting her while she was in the same club as the couple, but later admitted that she made the whole thing up. Of course, things only got weirder now that Simmons is reportedly thinking of beefing up his security because he believes that Tinashe is following him and Kendall Jenner, and honestly, this seems like a lot for a typically private person like Jenner to handle.
Elite Daily reached out to Tinashe and Simmons' team for comment on the situation, but did not hear back by the time of publication.
But despite all of the ex-girlfriend drama, it seems that the reported new couple are really getting along well. The source said,
Things are definitely heating up though and she's having a good time with him. She's excited to spend the summer with Ben. Over the last year, she also slowed down some of her work and took a break from the runway. She deals with a lot of anxiety and needed a breather. That kind of traveling really takes a toll on her, but she's been feeling good.
And, while neither party have full-on confirmed that they are dating exclusively, it was only a little over a month ago when the rumor mill first started swirling that Jenner and Simmons were reportedly dating, with Page Six noting that the pair had only been dating "for a few weeks," so let's just give them a little bit of time, shall we?
Although there were reports that they were living together (really, people? This isn't Ariana and Pete we're talking about!), those rumors were totally debunked, with a source telling People, "Ben is renting the house. Kendall is not on the lease. It's a gorgeous house, so it makes sense that she wants to stay over as much as possible," and even though they are clearly taking things slow, the source noted that "Kendall and Ben have spent the past few days together in L.A. ... They do seem a bit more serious."
Let's give Kendall and Ben the space they deserve, and let them do their own thang. They'll tell us their relationship status whenever they're good and ready. That's exactly what Kendall deserves, so let's send nothing but love and happiness her way.
Love you too, boo.