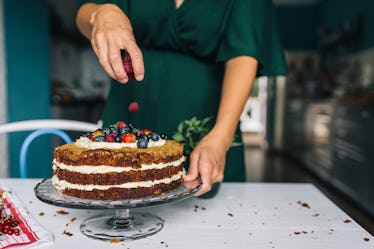 The 1 Food You Should Try In 2018, Based On Your Zodiac Sign
So, you've resolved to do more cooking this year. Same, girl, same. Although this is, indeed, a resolution I've made in the past — while ordering my second Seamless of the day — this year, I am truly committed to doing it. In the name of making the process of experimenting with cooking just a little more fun, I've put together a list of recipes you should try in 2018 according to your zodiac sign because, let's be real, everything is a little better when you have guidance from astrology, amirite?
And honestly y'all, eating at home is just simply better for your overall well-being. Not only are you able to control exactly what's going into your body, but it can actually make you happier and help you feel more connected to what you consume. Studies show that people who eat at home five to six nights a week generally consume healthier ingredients and less sugar overall than those more prone to ordering takeout 24/7. I definitely feel that, seeing as how it's pretty easy to just tap "yes" on that "extra fries" option when you're ordering a sandwich on an app, and it takes a whole lot more effort to actually prepare the food yourself.
So, here's to spending more of the new year in the kitchen, and then sharing the meal of your star sign with the rest of the zodiac! Here's the recipe your sign should experiment with in 2018.