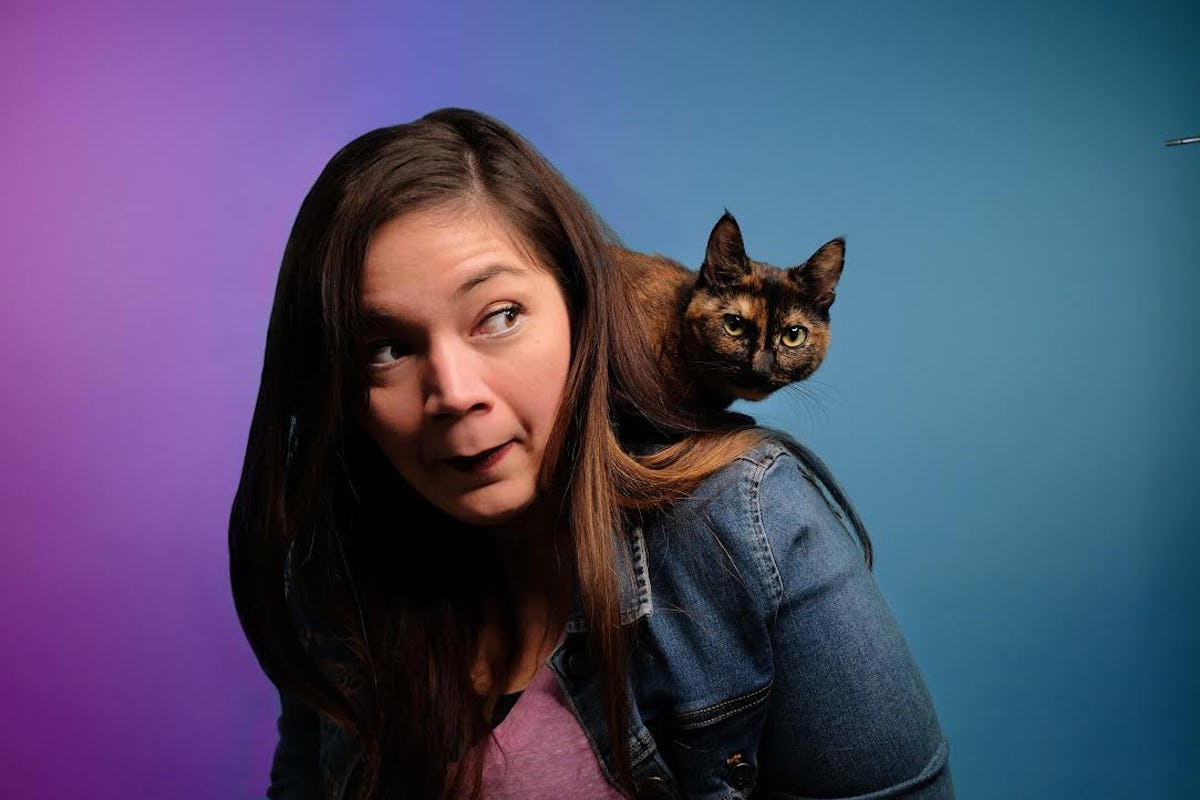 If Your Squad Is Sick Of You Talking About Your Dog, You Need To Listen To This Podcast
My dog Hank has a habit of kicking his toys under the couch and then trying to dig them out again (don't worry — he doesn't damage the floors). Every time I see him whining and desperately trying to retrieve his favorite rope toy, I can't help but laugh. Pets are just hilarious most of the time. If you're the proud owner of the cutest fur baby around, or you simply love anything related to animals, I guarantee you'll be obsessed with the Pet Parents, Oversharing podcast — a half-hour show full of funny anecdotes and attempts to answer the most important questions about owning a pup or a cat.
Not only is the Pet Parents, Oversharing podcast every pet owner's dream, but the show even began under the most perfect circumstances: Two hilarious best friends and pet moms found a sponsor, and were then able to gush about their beloved animals — a Shih Tzu named Floof Boi, and two cats named Candy and Phoebe — for a whole community of listeners. "It's like having a friend in your ears," says co-host Kaity Reagle in an email interview with Elite Daily. "So what better way to celebrate the furry friend you have at home than by dedicating an entire podcast to being a pet parent!?"
The magic takes place in collaboration with Freshpet, a company that produces all-natural pet food. Frankly, the whole thing sounds like so much fun. "[Freshpet] brought us on board to get weird and tell all those funny, real, and even cringeworthy confessions that we hope will have you rolling around on the floor," Reagle tells Elite Daily. "Unless you're driving — then, for the love of god, please maintain control of the vehicle."
So what exactly makes a cuddly pup or a fluffy cat so damn funny to these comedienne hosts? Co-host Andrea Shapiro suggests that there's something about the earnestness of pets that makes their escapades so laugh-until-my-stomach-hurts uproarious. "My favorite thing ever is when I'm laughing at something my cat has done, and I look at her to see she is totally straight-faced," she says. "It's the strangest, most hilarious relationship I have in my life."
Reagle and Shapiro tell me they don't just think of Pet Parents, Oversharing as something that their audience listens to; they want to draw in the vast pet-parent community through their common experiences and prompt more conversations about what it's like to take care of a pet. "The world can feel so [wild] sometimes, but getting to relate and interact with fellow pet parents can be just the thing to make it more bearable, and more filled with joy," Shapiro tells Elite Daily. "We hope the takeaway is that there are so many people (and pets) out there that very well may be living in a parallel universe, and it's OK to strike up friendly banter over it."
Of course, what would a pet podcast be without tackling the age-old question: cats or dogs? Luckily, each side is represented in the pets of these BFF hosts, so all animals get equal love on the podcast. As far as the debate goes, though, according to Reagle, cats are not funnier than dogs, or vice versa. Every pet has the potential to do hilarious things, she says. "Funny comes in all colors, tail lengths, and paw sizes," Reagle tells Elite Daily. (But if you're invested in the dog versus cat debate, be sure to check out Episode 2.)
Seriously, this podcast has everything: pet-parent failures, super awkward stories, and plenty of recognition of all the little moments that make owning a cat or dog so wonderful. If you want to start listening to Pet Parents, Oversharing, the first six episodes are already available to stream through iTunes, SoundCloud, or anywhere you usually listen to podcasts, so get your headphones ready.
"For any pet parents out there who want to make sure their dog or cat isn't the only goofy one out there," says Shapiro, "welcome home, my babies."