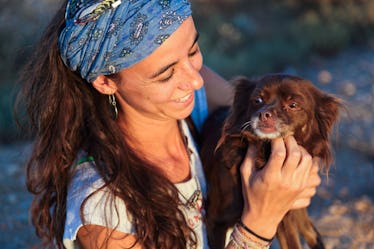 8 Things All Dog Moms Have In Common That Prove They're Proud AF Parents
Being a dog mom is an extremely exciting and important role to take on. It's rewarding AF, and although it takes a tremendous amount of responsibility, wet kisses and wagging tails make it well worth it. Your fur baby is basically like your child, except they devour puppy biscuits when it's chow time. The companionship is unreal, and they really bring the best parts out of you. Every pup is different, but there are things dog owners have in common, because dogs make us all warm and fuzzy inside... and it's not just from encountering tons of their fur.
How can you not love a pet who is so incredibly selfless, fun, and cuddles like there's no tomorrow? Regardless of what's going on in your life, your pup is always there to help you unlatch from a bad or mediocre day and enter carefree times. You could literally be doing nothing at all, but with your pup by your side, all is well in the world.
You might think you're the only one who lets your pup get away with far too many things, because they are just too adorable. You may also try to inch off the couch slowly because they're comfortable AF, and waking them would be so not cool. When you have a fur baby in your life, behaviors like that are expected and several other dog moms can attest that those proud moments are endless.