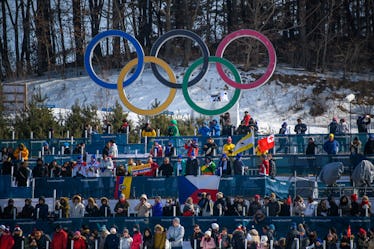 Two Swiss Athletes Have The Norovirus At The Winter Olympics & Here's What That Means
Carl Court/Getty Images Sport/Getty Images
If you think being trapped in a village while a very contagious virus spreads among its inhabitants sounds like the premise for an apocalyptic horror film, you're not wrong. But it also happens to be what's currently going on in PyeongChang, where there has been a norovirus outbreak at the Winter Olympics. As you might imagine, the spread of a highly contagious virus isn't exactly the best thing in the world for athletes trying to perform to the best of their ability, but unfortunately, two Olympians have reportedly caught the norovirus, according to The New York Times.
The norovirus, which is sometimes called the "winter vomiting bug," typically only lasts between one and three days, Mayo Clinic reports, and while it can go away on its own without treatment, it can cause symptoms that may require medical attention, like vomiting and diarrhea, which can cause a person to become extremely dehydrated. So no, the virus isn't deadly, but it can make you very, very sick.
Here's what we know about what's going down at the Winter Olympics: First, the virus was spreading among security guards at the Olympic Village, and BBC reports that approximately 1,200 guards were replaced with soldiers to guard the Winter Games. Now, the norovirus appears to be spreading, as Reuters reports that the Swiss Olympic delegation has confirmed that two Swiss freestyle skiers, Fabian Boesch and Elias Ambuehl, have caught the illness. A spokesperson told Reuters that "everyone else is safe." The spokesperson continued,
We did everything we could. We took them away from the rest of the team and now they have to recover. They were taken to a single room and had no contact with the other athletes.
Please note that athletes who have had the norovirus are allowed to compete if they are in good physical health, have been tested by the Swiss medical team, take all precautionary measures and the IOC [International Olympic Committee] has been consulted.
Though every precaution is being taken to make sure no other athletes catch the virus, it's possible that the illness is continuing to spread among some athletes. In an interview with NBC, alpine skier Mikaela Shiffrin said she threw up before her slalom run on Friday, Feb. 16. She explained,
That was kind of sudden. It almost felt like a virus. Kind of puking, less about nerves. But we'll see.
So, should the other Olympians be worried? Or is this something that can be dealt with using hand sanitizer and antibacterial wipes?
Elite Daily spoke with Katherine Harmon, senior director of health intelligence at iJET International, who sheds some light on the realities of the norovirus potentially spreading among the rest of the Winter Olympics attendees and athletes.
"This particular virus is very challenging," Harmon explains. "It takes very few viral 'particles' to cause symptoms in a susceptible person."
Harmon adds that the virus is mostly resistant to outside factors like temperature and moisture, meaning that it's able to live on many surfaces for long periods of time, despite things like heat, cold, rain, snow, and the like. In other words, it's very easily transmitted from one person to another. "Additionally, crowding of mass gatherings, such as the Olympic Games, provides an opportunity for a mass outbreak of norovirus," Harmon says.
In general, Harmon suggests that "good social distancing" from others (she recommends at least two meters, or about six or seven feet apart) and excellent, thorough hand-washing techniques can help the athletes stay healthy. Unfortunately, though, Harmon says that "isolating an infected individual is the only way to really contain this."
An additional challenge here, Harmon says, is that "the virus remains active in a person for up to two weeks even after symptoms resolve." Yikes. "Once people stop the severe nausea, vomiting, and diarrhea," she explains, "they want to get right back out there and enjoy the activities, [but they're] unaware that they may be further spreading norovirus to other attendees."
Unfortunately, Harmon points out, there isn't much that athletes can do to avoid the illness, other than staying on top of things like self-care, hygiene, and proximity to others.
"Athletes especially need to be mindful of what they eat and drink," Harmon says. She recommends sticking to "only hot and thoroughly prepared foods," and she also suggests they should "drink plenty of fluids, and get enough rest."
"Above all, limit close interaction with others when possible," Harmon advises, and "use a bleach and water solution to clean any surface." And, of course, she says to always remember to "wash wash wash [your] hands!"
Let's all send some healthy vibes over to PyeongChang, shall we?