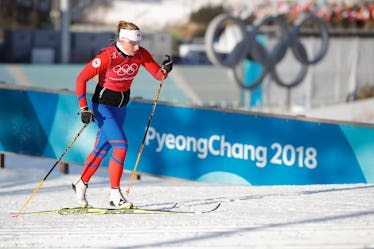 A Norovirus Outbreak Has Hit The Winter Olympics & Here's What It May Mean For The Athletes
Andreas Rentz/Getty Images Sport/Getty Images
The countdown is on to the 2018 Winter Olympics, which officially begin on Friday, Feb. 9, but just when we thought things were running pretty smoothly over in South Korea, the season of sniffles and viral infections reared its ugly head. CNN reports that norovirus has touched down in PyeongChang, causing a massive outbreak among Olympic security guards. If you're wondering what the norovirus is, it's basically just a fancy term to describe a vomiting bug, with symptoms including diarrhea, throwing up, stomach pain, and if you really have a bad case of the virus, fever and headaches are also common.
There's obviously no ideal time to get sick, but this certainly was far from opportune, seeing as how we're less than five days out from the Olympic opening ceremony. What's more, it's unclear whether the virus has been totally contained yet. According to TIME, the virus is "sweeping through venues" and has already infected roughly 1,200 security guards, 41 of whom have been hospitalized. Luckily, South Korean military soldiers were on standby, and were called in to replace the guards. It's a sticky situation (no pun intended), but the games must go on and, so far, the athletes are well and healthy.
But just how serious is the norovirus, and how does it spread?
When I began researching the norovirus, my fingers were crossed for everyone infected that it would turn out to be just a tiny bug that makes you vom for a day or two, and then you're back to business. But this virus is vile and, not to mention, highly contagious.
According to Mayo Clinic, there are two ways to catch the norovirus: through food or water that was contaminated when it was being made, or through close contact with someone who has already been infected. This makes sense, considering these guards are spending plenty of time in close proximity to one another, and it wouldn't surprise me if the Olympics were providing workers with meals. (This is all speculation, of course. For all we know, someone with the bug could have passed it along, and the germs could have spiraled like a domino effect.)
Someone who catches the norovirus will develop symptoms — including an onset of vomiting and watery stools — within 12 to 48 hours after exposure, according to the Centers for Disease Control and Prevention (CDC), and the virus can last for up to three long, miserable days.
It's actually not uncommon to catch the norovirus: According to the CDC, a whopping 19 to 21 million cases of the virus are reported per year with anywhere between 56,000 to 71,000 hospitalizations, and most people push through without medical attention. However, young children and older adults can catch a more serious strain that could lead to "severe dehydration," "dehydration," and, worst case scenario, the virus could be fatal. According to CNN, the Winter Olympics committee is taking steps to make sure both staff members and athletes remain healthy.
This isn't the first time a case of the norovirus has been seen during an international athletic competition.
BBC reports that during the 2017 World Athletics Championship in London, athletes were "forced to pull out of the competition" due to an outbreak at a nearby hotel where they were staying. Fortunately, despite some athletes having already arrived in PyeongChang, no competitors have been exposed to the norovirus at this time, and strict measures are being taken to ensure that doesn't happen.
CNN reports that the Korean Center for Disease Control and Prevention (KCDC) issued a statement on Monday, Feb. 5, detailing what steps are being taken to make sure both staff and athletes stay healthy throughout the competition.
KCDC dispatched an immediate response team to the PyeongChang site to check additional people for symptoms, check the origin of the exposure, take measures to control infection and prevent spread.
The Winter Olympics committee has also said it will be routinely checking on sleeping quarters, while water and food supplies are currently being tested for contamination.
While the Winter Olympics committee is doing everything in its power to prevent the norovirus from spreading, there are ways for athletes to protect themselves, as well.
For the record, no one is perfect. Not everyone washes their hands five times a day, or keeps their fingers out of their mouth, or pays close enough attention to their surroundings. Sometimes germs just spread, and we can't always totally prevent or contain it. However, when you're knowingly going into an environment where disease is rapidly spreading, it's in your best interest to take every and any necessary precaution in order to stay healthy.
Though I'm sure the Winter Olympics committee has everything under control, the athletes themselves are the only ones who can provide total and undivided attention and care to their bodies. This means diligently washing their hands, keeping their hands away from their faces whenever possible, practicing food safety when preparing their own food, disinfecting their space, and being aware of any symptoms teammates may be showing.
Again, at this time, no athlete has been infected with the norovirus, and any guard who may have been exposed has been tested for symptoms and relieved from duty. All we can do now is send good vibes to PyeongChang, and hope that both staff and competitors stay healthy.
Erin Jackson is an inline skating world medalist and roller derby MVP. She dreamed of skating in the Olympics, but to do that, she had to get on ice. She took her first steps on a long-track course in 2016 and started training professionally in September 2017. Four months later, she qualified for the Olympic Winter Games. Check out Elite Daily Insights' video on Jackson's incredible story: