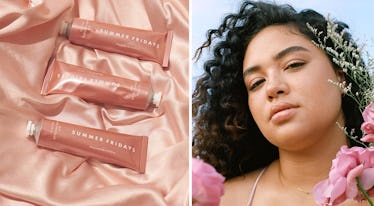 Summer Fridays Just Announced Their New R + R Mask & The Internet Is SO Freaking Excited
Lauren Gores Ireland/Instagram; Summer Fridays/Instagram
Summer Fridays, the skincare line responsible for the very chic aluminum tubes that litter your Instagram feed, was undoubtedly my favorite new beauty brand of 2018. That said, I knew they had even more in store for 2019, and just as January is wrapping up, they've announced a new launch that's perfect for February, aka the unofficial month of love. Done in the dreamiest of pink packaging, the new Summer Fridays R + R Mask will be a rosy ode to self-love, by way of treating yourself to a mask that refines and brightens for your loveliest skin yet. Consider this mask the ultimate excuse to declare yourself your own Valentine, because you deserve a gift, this one in particular.
If you aren't already a devout worshipper of all things Summer Fridays, allow me to convert you. The brand's little blue Jet Lag Mask ($44, summerfridays.com) is constantly sold out on their site as well as at Sephora online and in-stores, and an ingredient list packed with vitamin C, niacinamide, and chestnut extract makes it the key to looking well-rested, now matter how stressful life gets. On the other hand, their orange Overtime Mask ($48, summerfridays.com) utilizes vitamins A, K, and C, along exfoliators like pumpkin and apricot seed powder, to remove dead skin and reveal a brighter, more even complexion with every use. When used in conjunction, these products genuinely give me my best skin, and while it's rare that I'd recommend a product to virtually everyone (Of course, bear in mind any ingredients you know you're personally sensitive to!), I find myself constantly raving about these products to my friends, family, followers, and whoever else will listen.
So of course, when the brand announced their newest mask, I was instantly thrilled:
Before we even talk about the ingredients and formulation, I need to focus on creating a formal petition to move that Lauren Gores Ireland and Marianna Hewitt, the bloggers-turned-Summer-Fridays-founders, be the ones who decide all future Pantone Colors Of The Year from now on. These ladies just get color. Jet Lag was the most serene sky blue, and Overtime was the perfect orange to make pumpkin spice cool again. The new R + R mask is cased in a dreamy dusty pink tube, and I want to paint every wall in the marvelous shade. It's begging to be Instagrammed, and I simply cannot refuse.
Fortunately, the description looks as promising as the packaging. R + R's main magic-worker is wild rose powder, and the product is described by the brand as a two-in-one "face oil + face mask" that "brightens, refines, and quenches skin for an instant rosy glowing complexion." Hi, yes, sign me up for all of that, thanks. I love the rosy theme to coordinate with Valentine's Day just around the corner, and I'm down for a glowy complexion all year round, so I'm basically sold.
If you're thinking I'm a little too excited, I swear I'm not the only one:
Judging by the response on the reveal Instagram post, pretty much everyone is dying to reap the benefits of a little R + R. There are tons of comments from skincare-lovers tagging their friends so they can share in the excitement, as well as hundreds of iterations of "I can't wait!" exclaimed every way possible. While a few commentors posed questions on a possible rose fragrance and risk of irritation for sensitive skin, many are hoping their success with the previous two masks is a sign they'll love R + R, too. "Can't waiiiiit!! Your masks are some of the only ones that don't irritate my skin 🌹," wrote one Instagram user. "Waiting patiently for a trio of mini masks 💕💕" wrote another, and girl, same. Summer Fridays released a limited-edition set with haircare brand Ouai featuring a mini Jet Lag Mask just before the holidays, and I've been dying for a mini Overtime to complete my travel kit ever since.
An actual image of everyone on the Internet preparing to achieve the R + R Mask's promised rosy glow:
Whether or not you think you'll pick this mask up as a Valentine's Day treat to yourself, it's certainly a great option for anyone looking to polish his or her complexion with something that won't be too harsh or drying, thanks to the hybrid oil/mask formula. R + R will launch on the Summer Fridays website and the Sephora app on January 30, and will hit Sephora's site on January 31. It's expected to appear on shelves at actaul Sephora stores some time in February 2019. Shoppers outside of the United States can look to Mecca and Cult Beauty, sites which will also eventually carry R + R.