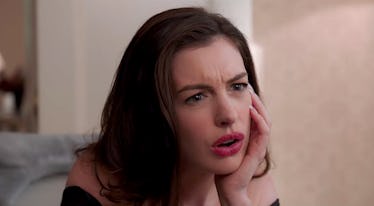 New 'Ocean's 8' Trailer Might Reveal A Huge Twist Involving Anne Hathaway's Character
What could be epic enough to unite Cate Blanchett, Mindy Kaling, Sandra Bullock, and Rihanna!? Just a massive jewelry heist, no big deal. The movie that casting dreams are made of is less than two months from landing in theaters, and the new Ocean's 8 trailer just dropped to pump us up even more for the big event. The new two-minute clip lays out Debbie Ocean's plan to rob the Met Gala, and gives fans a better idea of the role her gang of badass women will play in pulling off the multi-million dollar robbery. Also, there's also an Ocean's 8 clue about a huge Anne Hathaway twist that could change everything we thought we knew about this movie.
The first trailer for Ocean's 8 dropped about four months ago, and that introduced us to the characters each superstar actress would be playing:
Sandra Bullock is Debbie Ocean, the team leader and sister to George Clooney's Danny Ocean from the original Ocean's Eleven trilogy.
Cate Blanchett is Lou, Debbie's close friend whom she turns to after being released from jail to help organize the jewelry heist.
Helen Bonham Carter is Rose, who appears to be a fashion designer and jewelry expert that will be the gang's "in" at the Met Gala.
Mindy Kaling is Amita, a master at forging fake diamonds.
Rihanna is Nine Ball, a master computer hacker.
Sarah Paulson is Tammy, a suburban housewife whose role in the heist is still pretty unclear.
Awkwafina is Constance, a master at sleight-of-hand and pickpocketing.
Anne Hathaway is Daphne Kluger, a wealthy celebrity who wears the diamond necklace that is the target of the planned heist.
With all the introductions done, the second official trailer for Ocean's 8 focuses on the actual heist, as Debbie Ocean lays out her fool-proof plan to steal Daphne Kluger's diamond necklace and make $16.5 million dollars per person involved in the heist. Check out the new trailer for yourself below:
The new trailer gives fans a better idea of Anne Hathaway's character of Daphne Kluger, who was only briefly in the previous trailer. In this one, we learn that Daphne may be a bit of the self-centered, glamour-obsessed actress stereotype, as she marvels at the mirror when putting on her diamond necklace and doesn't seem to grasp the importance of a convicted felon being present at the Met Gala the night of her robbery.
The latter scene also brings up a major question about one of the characters: Is James Corden on Debbie's side or on Daphne's? In the new trailer, Corden appears to be playing some sort of investigative agent helping Daphne catch the robbers who took her diamond necklace, but as W Magazine points out, Corden's character was described as "Debbie's confidant" when the first trailer was released, and shown looking very buddy-buddy with the ex-con in a restaurant booth. So... what's the deal?
The confusion over James Corden's character might actually reveal a huge twist in regards to Anne Hathaway's character. The trailers make it seem like it is seven women attempting to rob the unknowing celebrity Daphne Kluger, but what if Hathaway's supposedly oblivious character is actually in cahoots with Debbie Ocean and her team the whole time? After all, this is called Ocean's 8, not Ocean's 7, and we have seen Hathaway's character hanging out with the other seven women in the subway in one shot from the movie.
Another line from the new trailer that stands out when you consider this theory is when Debbie Ocean confidently tells her crew: "We will not be the prime suspects." Could that be because they have Daphne Kluger secretly on their side, to purposefully misdirect any investigators away from Debbie and the others?
It's impossible to be sure about this possible twist right now, but we will know what is really going on when Ocean's 8 hits theaters on June 8.