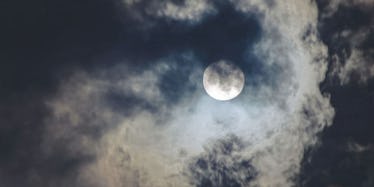 4 Dating Wishes To Manifest During This Sunday's Powerful New Moon
Certain aspects of astrology allow us to find meaning to specific parts of our lives. These things affect how we view different situations, varying from our education, to career, to love life. The new moon on September 9 affects your love life in more ways than one. Depending on the status of your romantic life at the moment, the new moon could help you gain perspective and insight into your own life.
I spoke to Annabel Gat, who writes the daily and monthly horoscopes for Broadly, and the AstroTwins astrologers Ophira and Tali Edut to learn more about what the new moon means and how it correlates to various dating and relationship situations.
First, what is the new moon?
"The new moon is like a fresh start, a moment where the sky is dark and we have a 'blank canvas' upon which to create," the Edut twins tell Elite Daily. "In astrology, the moon represents our deepest emotions, how we nurture ourselves and others, and what we need in order to feel secure. These are themes to reflect on during the day of the new moon, which occurs once each month. It's a moment, astrologically, that can be used for starting fresh, setting intentions and planting seeds for the coming four weeks and six months."
This specific new moon is in Virgo, says Gat, and evokes back-to-school vibes.
"This new moon in Virgo, a dutiful, thoughtful, hardworking yet playful Mercury-ruled sign especially feels like 'back-to-school,' because whether you're in class or not, we're all [feeling] guided under this new moon to sharpen our pencils and get organized," Gat tells Elite Daily.
Read on to see how specifically the new moon could affect your love life.