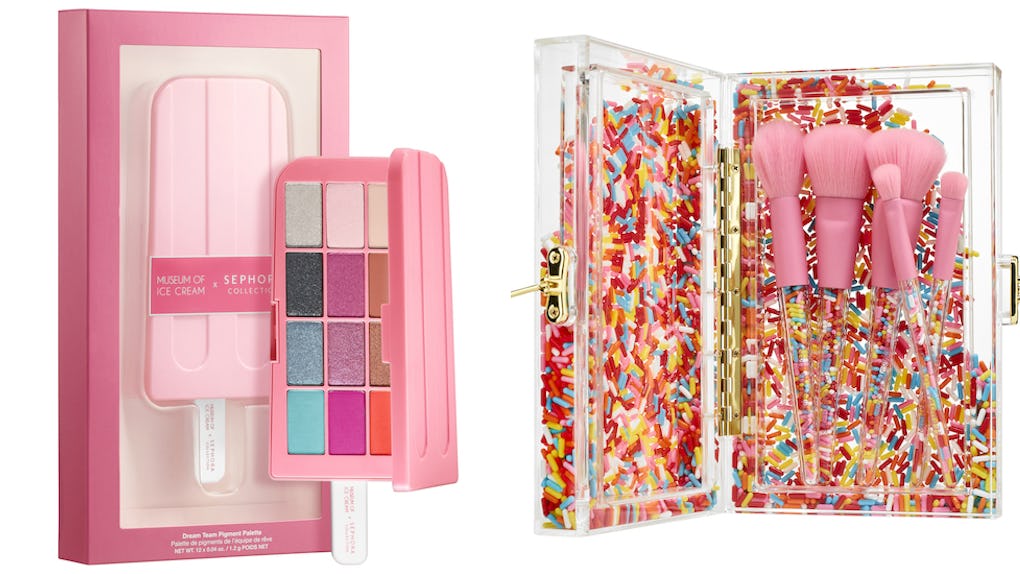 Courtesy of Sephora Collection
The Museum Of Ice Cream x Sephora Collab Is A Dream For Any Beauty Addict With A Sweet Tooth
There are few things I love more than freshly applied makeup, but dessert has to be a close second. And while I'm not an ice cream gal myself (cannolis are what make my Italian heart sing), I respect the dedicated love affair so many indulge in via late-night pints of their favorite flavors. As someone with a penchant for scoping out Instagrammable locales, the Museum of Ice Cream in NYC has been on my radar for quite some time. So when I found out about the Museum of Ice Cream x Sephora collab, I nearly went wild. We've finally done it, people — we've combined my three favorite things: makeup, dessert, and aesthetic Instagram content. Well done.
Update: According to a press release from the brand, the collection will be available on Wednesday, Sep. 19, 2018, and will be available in Sephora stores, at Sephora.com, via the Sephora app, MuseumOfIceCream.com, and the Museum of Ice Cream in San Francisco. The collection includes the sweetest ice cream-themed beauty buys, like...
Sprinkle Pool Brush Set ($64)
This five-piece set of brushes comes with a matching clutch to sprinkle 10 times more fun into your look.
Let Them Eat Popsicles Lip Set ($34)
These glossy-finish lip stains are all scented, too, so try hard not to take a bite.
Dream Team Pigment Palette ($42)
The 12-pan palette is packed with pigments that boast a creamy formula, so these delicious colors will melt into your lid in the best way.
Sugar Wafer Face Palette ($36)
This bronze, blush, and highlighting palette gives you everything you need to look like a snack.
Rainbow Sherbert Lashes ($18)
Have you ever seen lashes look this fun before? (No. The correct answer is no.)
I SCREAM Charm Bracelet ($28)
This is the one time it's appropriate to wear what you eat.
Earlier: Perhaps some of you are asking yourselves, "Wait, what collab is she so hype about?" If you aren't following the the right Instagram accounts, it's possible you haven't even heard about this blessing, so allow me to spill all the tea right now. @Trendmood1, an Instagram account known for leaking beauty launches and news, posted a photo hinting at some dreamy, pastel pink packaging and products just one day ago, and today on the Museum of Ice Cream's Instagram account, we were treated to the official news.
The Instagram-friendly pop-up museum will be popping up at Sephora, thanks to their new beauty collab with Sephora Collection:
Is this news not sweeter than any ice cream you've ever tasted? I think it is!
Just by looking at the photo shared by @trendmood1, it looks like we're in for a real treat:
To all the neutral palettes I've loved before: I'm sorry, but I'm making room in my makeup bag for this popsicle-shaped, pastel dream ASAP:
And I'm sorry, but why don't I already own these makeup brushes filled with sprinkles? These should be a required staple for any and all beauty-lovers!
According to @Trendmood1's post, the reported prices are pretty sweet, too. The five-piece brush set comes with a sprinkle-saturated clutch as well, and the duo retails for $64, which is a little less than $13 per brush. The eyeshadow palette costs $42, which is around $3.50 per shade. The four-piece popsicle lip gloss set will go for $34, so around $8.50 per gloss. Finally, Sephora has confirmed that the charm bracelet will retail for $28, the face palette goes for $36, and the lashes cost $18.
Cut to me, eagerly awaiting the opportunity to indulge in this collection:
I fully intend to snag all of these new goodies, and much like when I'm enjoying a dessert, I will not be sharing with anyone. So, how to pick up the products up for yourself? Sephora has confirmed the limited-edition collection will be available come Sep. 19, via the Sephora app, and you'll also be able to snag the items at Sephora.com, in Sephora stores, at MuseumOfIceCream.com, and at the Museum of Ice Cream in San Francisco.
Now that you've got the scoop (lol) there's nothing left to do but wait patiently until the collab launches and keep your fingers crossed that you can snag this sweet, sweet deal before it sells out.