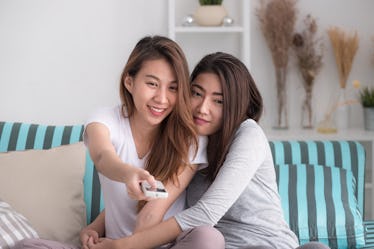 The Movie You Should Watch On Your Next Date, Based On Your Zodiac Sign
Shutterstock
Though there's much to be said for trying that new Thai restaurant or taking an impromptu pottery lesson with your partner, sometimes spending a night in with your boo is just what the (love) doctor ordered. No matter how long you've been seeing someone, snuggling up, making some snacks, and watching a movie together can be a sweet way to kick back and unwind. And if you're brainstorming the movie you should watch on your next date, well, my friend, you've come to the right place.
Though astrology can't dictate everything, it can be interesting to see how someone's zodiac sign impacts their personal taste and preferences. When it comes to picking a movie, knowing when someone is born can really come in handy when finding out what genres and styles someone likes to watch. Maybe your date is a rule-following, to-do list making Virgo who loves an informative documentary or an adventurous Sagittarius who lives for action, thrills, and explosions. Regardless, taking someone's sign into account can help you pick the best flick for them (and for you to watch with them).
Here is the film you should watch on your next movie-date, based on your zodiac sign.